NWA Legends Fanfest Play-by-Play
Saturday, 12:40AM
Today proved to be a very good day. We arrived in the vendor room at 8:00AM to begin setting up. The crowd was a little slow; probably due to the fact that it was Friday.
Everything seemed to go smoothly during registration. Apparently the materials arrived safely. Tommy Rich was not present for his scheduled signing/polaroid events. The phrase "no-show" was used countless times today when Tommy's name was mentioned. I hope that something can be done do get Tommy to Charlotte. Reports were that he WAS present for his indy show appearance the night before. I certainly hope that Tommy will finally appear this weekend at some point.
The only misfortune in our plan today was that Corporal Kirchner got stuck in some pretty bad traffic on his way to the show. Once he arrived (around 12:20PM) he went straight to work. I cannot say enough about The Corp. He truly enjoys making these appearances when he is available. He stayed until a few minutes before 4:00PM and then we said our goodbyes. I wish to thank each and every fan who purchased autographs and photo opps with Kirchner. Please know that he wishes to extend his deepest gratitude for the fans who showed up to support him and chat with him about days gone by.
On a side note: please remember The Corp and his family in your thoughts and prayers. His wife's grandfather is suffering a losing battle with cancer in Dallas, TX. The outcome doesn't look promising. Amidst all of that, The Corp came through in his usual fashion and made his appearance. THANK YOU CORP!
The One Man Gang arrived at around 2:30PM, after making the TWELVE-HOUR drive! He went to his room to rest and met us for dinner.
After The Corp left, it was time to tear down and get ready for the evening's activities:
HOH Induction Banquet
All I can say is WOW! We entered the banquet room and there was absolutely no wait for the buffet as the legends were being seated. As I walked into the ballroom, I was met by Nickla "Baby Doll" Roberts. She looked absolutely AMAZING! She gave me a big hug and I just had to tell her how wonderful she looked!
After finding our table, we made our way to the buffet, which consisted of broasted potatoes with onions and peppers, chicken-flavored long rice, a yellow corn medley, roasted chicken, and (possibly the BEST I've ever had) braised pork tenderloin. No detail was spared with the feast that was presented to us.
After everyone was settled in and finished their meals, the HOH Inductions began. The master of ceremonies for the evening was none other than The Louisville Slugger, James E. Cornette. Those inducted were Gene and Ole Anderson, Rip Hawk and Swede Hanson, Penny Banner, and "The Voice of Mid-Atlantic Wrestling", Bob Caudle.
Two of the most emotional acceptance speeches were from Gene Anderson's son, Brad, and Swede Hansons son and daughter. It was a moment for which I am glad I was present. It was extrememly moving.
In between inductions, Cornette went around the room and introduced all of the other legends in attendance, He introduced, Baby Doll, The Midnight Express, Les Thatcher, Butch Reed, Dustin Rhodes, Judy Martin, Bill "Ax" Eadie, Ted DiBiase, and The One Man Gang. Gang had a great time mingling with his former co-workers and fans. I think that the fans will come out in full-force to support Gang tomorrow during hs official appearance.
The banquet ended promptly at 9:15PM, in order to set up the room for DiBiase's Q&A. Unfortunately, I decided to forego that event and choose sleep over fun.
After taking Gang to his room, we made our way back to our room to try and catch up on our much-needed sleep.
I CANNOT wait until tomorrow when "The Gang" and "The Outlaw" make their first appearances in a southern convention ever.
Big props are due Greg Price; He put on an AMAZING event to honor our heroes of this greatest sport on the face of the planet.
Until tomorrow, God bless.
Friday, 1:55AM
I apologize for taking so long to post the first update from "Flair Country." We left this afternoon at around 1:00PM and arrived at the Hilton, University Place at 7:45PM. So far everything is looking great. There has been only one hiccup that we know of. Greg had to postpone his early-bird registration due to the fact that imclement weather had caused some major problems at the airport. Apparently some of the more important materials for VIP's were expected to arrive today, but that was not the case. Greg decided that instead of giving everyone half of their materials tonight, and half tomorrow, he would postpone registration until all materials were in-house (6:00AM, Saturday). The photo booth was set up and had some of the nicest photos you would ever hope to see. Greg has truly outdone himself this time around. A person could be forever making a decision on which ones to purchase.
When I entered the lobby of the Hilton, I saw that Ole Anderson was mingling in the fans already! He was sharing stories with anyone who would listen and everyone seemed to be in great spirits, despite the problems that Mother Nature had caused.
Stars spotted so far include: Ole Anderson, Rip Hawk, and Bob Caudle. I was told by several friends that Gary Hart, Ted DiBiase, and Dustin Rhodes were also making the rounds and pressing the flesh earlier in the afternoon.
I hope to have another update for you tomorrow, around 2:00PM, with another after the Hall of Heroes dinner banquet. Until then, God bless.
Saturday
Saturday started much like the day before. After a short trip to Wal-Mart for some last-minute necessities, I went to the hotel to get ready for the appearance of "The One Man Gang." For those of you who weren't aware, Gang drove straight through to Charlotte from Baton Rouge, LA! Now THAT is dedication. Once his signing block began, it was non-stop people for quite a while. Gang signed a ton of autographs and posed for an equal amount of photos. As always, he is extremely fan-friendly and a genuine class act.
Next on the docket was Ron Bass. I must say that Ron is one of the easiest people that you would ever care to know. He flew in on Saturday morning and was right back out on Saturday evening. Believe it or not, this is the way he preferred it. He didn't even bring ANY luggage at all-not even a carry on.
In between the madness of helping at the LOTR booth, I attempted to make my rounds and partake in some of my usual fanfest activities. I have been to every one of Greg's shows and I had yet to have my photo taken with Jim Cornette. So, with that in mind, I decided to go to Corny's photo session. I am very glad that I did. Jimmy has always been great to me and is never afraid to engage you in what is sure to be a great conversation.
While I was waiting to have my picture taken with Jim, I noticed that Judy Martin was standing directly next to him. It was her scheduled time as well. After finishing with Jim, I went to the registration booth and purchased a photo-opp with Mrs. Martin. She was extremely cordial and seemed happy that people just recognized her.
I received a call at around 2:30PM. I looked on my caller ID and saw that it was Barry [Darsow]. I figured that he was at the hotel and was just calling to see where I was. Turns out that he was at the airport and wondered how he was going to get to the hotel. Within minutes the entire thing was sorted out.
Barry called when he arrived at the hotel and told me to come up to his room to catch up. He had brought his son, Dakota with him on this trip so that he could visit this next week with family and friends. I went to Barry's room and sat with him and Dakota for about 20 minutes or so. We were just catching up with the latest and shooting the bull. Barry had to get ready for his photo-opp and I had to get back to Ron Bass.
Funny story...Barry was told that he needed to have the Demolition paint on for his photos. He was back and forth about how he hadn't done it in so long and didn't know how he could pull it off. He spent the better part of an hour putting it on, only to arrive for his photo off with Bill and finds that Bill doesn't have a DROP of point anywhere on his face! Great rib!
At some point (and I DON'T know how) I was able to make it through each of the two signing blocks. It was great to see Magnum, Nikita, Goldust, Lex, Corny, MX, RnR, and so many more that I am missing. The line seemed to run smoothly each time I was in queue. I have heard that there were issues with some people being turned away. I was long gone out of the room so I did not witness any of those happenings first-hand.
After all the dust had settled, it was time to grab some nourishment. Gang, Justin (Gang's son), Barry, Dakota, Ben, Terence, and myself decided to meet at Smokey Bones for dinner before the matches. Talk about a great time! We talked about anything and everything. Amazingly, it wasn't centered around wrestling, although there were enough references throughout the meal.
After dinner, Gang, Barry, and their sons went to the matches at the hotel. Terence and I needed to head out to the airport to pick up The Honky Tonk Man. After picking up HTM, we headed out for some "beverages." After picking up said beverages, we took them back to the room. Barry joined us in our room and Ben came a little later. Up until closing time (around 2AM) we sat in the room, completely BS'ing. We watched some of Barry's best matches on youtube. My personal favorites were the "King of the Road" match and the Gimmick Battle Royal from WM17.
Realizing that we had to get up early on Sunday, we decided to call it a night. And what a night it was!
Sunday
Same as the previous two days. Up WAY too early, with far too little sleep! The crowd was slow to arrive on Sunday, probably because everyone was so tired and wanted to sleep as late as possible. I am sure that we weren't the only ones who had more than our fair share of fun the night before.
I was rather slow getting out of bed, simply because I ran out of my pain medication right before the trip and hadn't gotten it filled. Discomfort was my closest friend at that time. But, when you're doing something you love, you just have to grin and bear it.
I arrived in the vendor room and Terence already had everything set up for HTM's appearance. The first and only signing (Greg's guests) on Sunday was at 11:00AM. I got in line and was fortunate to get my items signed right before I had to meet HTM in his room and take him down for his signing. Speaking of his signing...WOW!!! Honky's line was out the door for the first 30 minutes of his appearance and that was despite the fact that we were MOVING! HTM is so very gracious and professional. I cannot thank him enough for taking time out of his schedule to appear for us in Charlotte. I do not know of one fan who met Honky who didn't have a truly great time! His photo-opps with the guitar were priceless. I remember when I was taking the very first one, a gentleman behind me said, "wow, now that is a TRUE 'mark' experience! I'm getting that!"
As far as vendor guests for the weekend, Honky was top dog, followed by a three-way tie with Gang, Orndorff, and Slaughter. Next would have been the Powers of Pain, Manny Fernandez, Ron Bass, Black Bart, Terry Taylor, Butch Reed, Corporal Kirchner, KoKo B. Ware, and Skandor Akbar. Keep in mind, this is just based on what I saw and was told by the other vendors. With the exception of Greg Valentine, all vendor guests which were announced, showed up. That is a feat in and of itself.
After HTM's appearance, it was pretty much time to call it a weekend. We tore down and decided to grab some grub with HTM at Applebees and then hit the road. I said my see ya laters to Dakota, his cousin, and of course, Barry. It is rumored that a certain 300+ pound man may be making the trip to Minnesota this winter to partake in some ice fishing! I'll leave the punch lines up to you for that one!
We headed over to Applebees and had some great food and shared some great stories with THE GREATEST Intercontinental Champion of ALL time! After dinner, we parted ways and Dave, Sean, and I began our 7 hour voyage home. Charlotte may have been behind us, but it was right in the front of our minds. We talked of the weekend and laughed at different stories from our unique experiences.
I want to extend thanks to Greg Price. Man, as always, you put on a hell of a show! You should be most pleased. I am certain that there were some issues, but you'll get them sorted out and all will be well.
Another batch of thanks belongs to the talent which appeared for us (Legends of the Ring) all weekend:
Corporal Kirchner: you're a class act all the way, bro. Thanks so much for taking the time to be with us again. Let's do it again, soon.
One Man Gang: thanks again, Gang. As always, you came through in fine fashion. Thanks for doing what you did for us! I am sure that we'll be working together sooner rather than later.
Ron Bass: you 'da man, Ronny! Thanks for being so easy to deal with. People such as yourself are what makes these events as painless as possible; Looking forward to seeing you in a couple weeks at LOTR V.
Honky: wow, HTM...what a response for you! We knew it would be so, and so it was. Your attitude with your fans was nothing short of amazing. You really know how to treat them and they know it. Let's get together again, shall we? LOTR VI sound okay?
To all the fans who supported us throughout the weekend, we say THANK YOU! Without the devotion of folks like you, these events wouldn't happen. We hope that you enjoyed yourselves and hopefully we can do this again. It was a pleasure meeting each and every one of you. I hope to do it again.
There it is folks. The weekend is over, but the memories will live forever. Did I leave out some things? Sure, to protect the innocent! If you said hello to me over the last few days, it was a PLEASURE speaking with you. God bless each and every one of you and I hope that you safely make your way back home.
8/13/2007
*PHOTOS WILL BE POSTED WITHIN THE WEEK*
"Wrestling Reunion" the Fifth Edition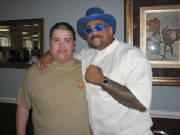 By: Dan Michaels
It seems to me as if the past couple months have been nothing but wrestling events. Don't get me wrong, this is a GREAT thing if you're a wrestling fan, but it can put a strain on the wallet. This past weekend was Mambo Rivera's 2007 convention offering, Wrestling Reunion V. It was Mambo's fifth full-scale convention, and arguably his largest.

As opposed to his first four conventions, Mambo decided to move his fifth to the St. Demetrius Banquet Center in Carteret, NJ, which is less than a ½ mile from the previous location, The Holiday Inn. A couple weeks ago I found out that my good friend from England, Ben was going to be attending WRV. It was announced that Pedro Morales was attending and this made Ben's decision to travel the great distance very easy. He has wanted to meet Pedro for a VERY long time. Ben emailed me and asked if I would like to share a room at the Holiday Inn with him. I gladly agreed, knowing we would have an unforgettable time. As always, Dave tagged along.

We began our 3 ½ hour voyage to Carteret on Friday evening. We arrived shortly past midnight only to find Ben sleeping. After catching up with each other, we decided it best to hit the sack. We knew that the following day would require as much energy as possible. I had spoken with Terence earlier in the day and he informed me that Sid was in-house! I couldn't believe that Sid had showed up to a wrestling convention. I am rather indifferent to Sid; he isn't a BIG deal to me, but then again, he is no small name!

We woke to face the day at around 7:00am. After our morning rituals, we decided to grab some breakfast at the Holiday Inn's restaurant. I have always said that this particular hotel restaurant is, in my opinion, among the best. After speaking with the bartender on Saturday night, I was told that this particular Holiday Inn is known for their restaurant's quality. Also eating breakfast at this time was Haku and Tama. I was very happy that they had made it for the show. I have wanted to meet The Islanders for quite some time. We were joined at breakfast by my good friend, Terence. Needless to say, I cannot wait until Legends of the Ring V!

We headed over to the banquet center and found that about 100 fans had already lined up. Mambo was gracious enough to allow our entire party to enter before the formal opening. This was a big help to me because with the medication I take, heat is one of my worst enemies. The banquet center felt WONDERFUL. There were AC vents all over and it made for a very comfortable experience. It was great to walk around in comfort and see what all the different vendors were offering. Speaking of vendors, Bud Carson was set up and was as glad to see me as I was him. I am so very happy that Bud is hosting Demolition at his store in Allentown in July.

I was also joined by Ray D. and his cutie-pie daughter, Taylor. It is always so nice to hang out with Ray. He is a genuine fan and GREAT supporter of the conventions. Ray realizes what many people fail to see, in order for these conventions to continue, they need support. I am all for saving a few dollars, but getting this and that for free doesn't really help keep the promoters afloat. I hope that people soon realize that the promoters need to make enough money to be able to fund their next convention. Ray knows this; he is truly a promoter's ideal customer.

After walking around for a while, Ben and I decided to make the rounds and get his picture taken with his favorite stars. Ben is not much for autographs but does enjoy his pictures. Me, I am a 50-50 split on what I prefer. The first stars we met were The Godfather and Ahmed Johnson. Ben got his picture with both. Both of these guys were complete gentlemen. Some people think that K&S's prices were a bit salty. While they weren't on the affordable side, they weren't absurd. I am sure that The Godfather came with a pretty big price tag. Unfortunately in these situations, the burden is passed onto the fans. That's the nature of the beast.

I had the pleasure of taking a few more pictures for Ben before I joined Dave in line for The Godfather. I purchased an autographed 8x10 and a picture with him. I opted for the Papa Shango autograph. I was always a BIG mark for Shango. I used to love those creepy gimmicks. Shango and The Undertaker were always two of my favorites from that era. The Godfather was a genuine class-act. As far as fan-friendliness, K&S made a GREAT choice! After getting my autograph and picture, Steve thanked me for my support. No problem at all!

At this time, I got in line for the main signing. Because Mambo does not number his tickets, and the fact that no formal announcement/stipulation was made (if it was announced, I am sure that NO ONE heard it) general admission ticket holders were intertwined in line with Golden Ticket holders. This didn't make me too upset because I was up close to the front; although I do empathize with other people's disappointment. The lineup was as follows:

The Islanders: Haku and Tama were very nice. It was so great to see/meet them for the first time. They were always one of my favorite teams. When I heard that they were announced, I was very excited.

Mil Mascaras & Dos Caras: These gentlemen were very quiet. I had no problems with them whatsoever. I had heard that prior to their introduction, Mambo was having some trouble with Mil backstage. I do not know the details, but I am sure it was not Mambo's fault.

Diamond Dallas Page: As always, DDP is a pleasure! He truly loves his fans and lets them know it. While he was not on my "can't-wait-to-meet" list (I had already met him), I was glad to see him nonetheless.

Madusa: Now here is a lady that I have secretly wanted to meet for quite some time. Let's face it, there are very few women wrestlers who could actually work. Madusa was one of them. From her run as Alundra Blayze, to her final days in WCW, I have always appreciated her work. I was not disappointed in the least with meeting her. I certainly hope this is not her last convention appearance.

Sid Vicious: I, like many other, did not know what to expect from Sid. Would he be stand-offish, mouthy, quiet, or any other dreadful combination? I extended my hand and he grabbed it. I said, "Sid, it's a pleasure to meet you." His response was (to be honest) not what I expected. "Well thank you, man. It's nice to meet you too. I'm glad you came out!" Let's just say that Sid was one of a kind.

Gail Kim: I have to admit, Gail was a pure sweetheart-nothing short of fantastic. She was extremely cordial and she just seemed to be glad that people were happy to see her. I always liked Gail from her WWE days so this was a treat for me. Gail didn't disappoint.

Kurt Angle: I have wanted to see Kurt again ever since our "Filling Station Meet & Greet" (that article is near the bottom of this page and you'll see why I wanted to see Kurt again). I shook his hand and told him that it was a pleasure to see him in a setting other than a gas station. He got a puzzled look in his eyes and then said, "oh yeah…I remember that." He signed a GREAT photo (all of Mambo's photos were great, by the way!) for me and with that, my adventure was finished.

After I was finished with Mambo's guests, I joined Ben and headed to the NJ Sports Promotions table(s) to meet Danny Spivey. When it comes down to it, Spivey was my Pedro Morales for this show. I have wanted to meet him for the longest time. I was so excited when I found out that Adam H. had booked him for WR V. I approached the table and gladly snapped Ben's picture for him. I then asked Adam if it was ok for me to get my Wrestlemania 2 program signed and a picture with Danny and he said, "yeah, or course man!" I want to thank Adam for taking such good care of me and not asking for anything in return. While I don't mind paying for anything I want, Adam is one of those guys that takes good care of his friends. Thanks, Adam!

Ben then joined Dave back in the main autograph line. I mingled around until they were at the front of the line and ready to meet Mambo's guests. Mambo was gracious enough to allow me to take their pictures for them. It may seem crazy, and I am guilty of it myself, but they wanted to make sure that their pictures came out as nice as possible. The best way to guarantee that they do is to make sure that someone who knows what they're doing is the one taking the pictures. However, I must give props to Mambo's staff; they took GREAT pictures for me during my trip through the line.

Once we were all finished, it was time for Ben to get his picture taken with Pedro Morales. I was honored to be present for this. I knew how important it was for Ben to meet his favorite legend. After this, it was time to head back to the hotel. Before we left, I went to say goodbye to Adam and he asked me if I had met Shelly (Ariel). I told him that I had not (to be honest, I wasn't really bothered). He introduced me and asked if I wanted to have a picture taken with her. I said sure and Ben snapped what turned out to be a GREAT picture. Again, I cannot thank Adam enough for being so cordial.

I felt rather guilty after I found out that so many people were waiting outside for so long. While inside, I was completely oblivious as to what was happening out there. I feel so awful that there may have been people who didn't get to meet their heroes. I hope that next time, it doesn't come to that.

After saying my goodbyes, we left for the day and sought out some food. My evening ended with having a wonderful chat with Ben about any and all things; amazingly NOT about wrestling. While chatting, I spoke with Barry Darsow and he asked if I was planning on attending the signing with he and Bill Eadie at Bud's store in Allentown in July. I said, "Well, if you want me there." He responded, "Well shoot yeah!" So, I suppose that Lord willing, I'll see Barry again in Allentown. He was nice enough to speak with Ben for a couple minutes. Ben really got a kick out of that. I wanted to make Ben's weekend as memorable as possible.

I am still completely humbled at the number of people who approach me and compliment me on this, and my photo site. I thank you all for even taking the time to look at this page. I only do it because I know I love hearing about other people's adventures. I am sure I am not the only one who enjoys that sort of thing. This is a way to keep my memories alive. While it is great to get autographs and pictures, that isn't what it's all about for me. It is about spending time with great people who share my love of wrestling.

I want to thank Mambo for always making me feel welcome. I know that he had a lot on him on the day of the show and that he wasn't able to be his normal self. I understand that those things happen.

I also want to personally thank Ben. You're a great man, you Brit! I never expected to find myself another great friend, let alone one from another continent, but I did. I only wish that you lived in the States, brother. Oh well, it will just make our times together all the more memorable. I cannot wait until August!
Please check out the photo page for official W24-7 photos from the entire event!
6/04/2007
Like Kids in the Hall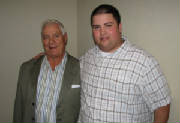 By: Dan Michaels
I don't know that I could have been any more awestruck than I was this past weekend at the Pro Wrestling Hall of Fame's Induction Weekend '07. To see so much amazing memorabilia and so many of the men and women who helped to keep me drug-free was an experience that I cannot describe. Well, maybe I could try…

My interest in attending this year's induction weekend peaked a few months ago. I saw on the PWHF website that this year's inductees would be Roddy Piper, Ted DiBiase, Danny Hodge, and many others. As if that wasn't enough, it was also announced that Pat Patterson would be making his first HoF appearance to formally accept his ring. Pat was officially inducted in 2006. These stars, coupled with the fact that I have never been to the HoF helped to make the seven hour drive SEEM as meaningless as the drive to my local Wal-Mart.

Since I'm on the topic, let's just describe this drive-shall we? Two words come to mind when I reflect on it; long and boring! Anyone who knows me knows that I hail from south-central Pennsylvania; right on the Maryland/Pennsylvania line. Dave and I set out on our voyage at around 5:00pm on Friday evening and didn't stop driving until 2:00am Saturday morning. The fact that we stumbled across a Charlie Brown's restaurant is what lead to the extended trip. I can't get enough of their coconut shrimp! I could have been in Johnstown by 5:00pm on Friday but for reasons I will go into in just a moment, that didn't happen. Our trip consisted of three main legs; I-81, I-88, and I-90. I-81 is an ok drive. It isn't hurting for length, but at least there are things along the road to keep your attention. I-88 is, however, without a doubt, the MOST boring stretch of interstate that man ever created! We drove its entire length (120 miles) and we were surrounded by NOTHING! That's no exaggeration; there were only about 6 exits on the entire road.

When I said that I could have arrived in Johnstown, NY earlier, I was speaking of the following. A couple weeks ago, my good friend, and owner of Pro-Wrestling World, Bud Carson, gave me a call. He informed me that his travel partner had to back out on him and that he had an extra ticket to the induction banquet, along with a hotel room and bed with my name on it if I was interested. Are you kidding? Of course I was interested. Getting to spend time with Bud is always a treat. I know that I say it continually, but Bud is truly one of a kind. Bud told me that he was leaving on Friday morning and asked if I could meet him in Allentown. I planned to take the day off work and do just that. Allentown by comparison is a MUCH shorter trip than Johnstown/Amsterdam, NY; by close to five hours. Unfortunately, Dave was not able to join us on this trek for one reason or another and decided that he was going to pout until I decided to take my own car and drive the ENTIRE trip and meet Bud there.

After coming to consciousness at around 8:00am on Saturday morning, we got ready to head over to Amsterdam's Best Value Inn where the convention was being held. A wonderful breakfast at Emmy Lou's started off our day and we entered the convention. I was met by my good friend, Ray D. It is always great to see Ray. He informed me that pretty much everyone was in the [convention] room signing already. Ray also told me that Harley Race had been in an accident and was pretty banged up; he wasn't able to make it. I entered the room to find that JJ Dillon, Pat Patterson, Ted DiBiase, Cousin Luke, Doink (Ray Apollo), Butcher Vachon, Missing Link, and Dick "The Destroyer" Beyer were all signing autographs and having a GREAT time. The only person charging for autographs was Ted DiBiase. Quite honestly, ten dollars for his autograph isn't asking too much.

After purchasing some photos from a gentleman who had AMAZING shots of the stars in attendance, I made my rounds and acquired a few autographs. At this, it was time to make my way over to the actual Hall of Fame. The extremely short walk lead us to a Mecca of enshrined treasures from wrestling's past and present. I don't know when I have ever seen so much great memorabilia in one place before. A few of the more memorable items included ring gear from The Fabulous Moolah, Demolition Ax, Pat Patterson, George Steele, and many more. The upstairs of the hall was a vintage poster collector's dream come true. It seemed as if there were posters from every era of pro wrestling. One of my favorite items in the entire hall was a signed Sports Illustrated which featured Danny Hodge on the cover.

While in the Hall, Doink decided to drop in and walk around as well. It was great to see him become a fan again and gaze at all the posters and photos which covered the walls. I must say that Tony and the entire staff at the PWHoF did a wonderful job putting together the displays at the Hall. After taking in all we thought we could handle (of course, we probably missed a TON of items), it was time to head back the the Best Value Inn for the formal meet & greet.

When we arrived back at the hotel, the line to get into the room was back to the lobby! If I had to make a guess as to how many fans were there, I would say around 200-250. Luckily, Ray had saved us a place in line, so we were in the first ¼ of the line. Upon entering the autograph room, it was just like any other convention. The stars were situated behind tables and gladly signed your items. In a smart move, the HoF staff moved Roddy Piper to the end of the line because his area was beginning to clog up. This proved to be an effective move. It was my first time formally "meeting" Roddy and I must say that I was extremely pleased. When I walked up to him, I said the first thing that came to mind, "I have to tell you that I've wanted to pay the piper for quite some time. It is an honor to finally meet you sir." He replied, "Ohh, listen at that. Well it's my pleasure!"

During the M&G, one fan was so overly eager that he actually crawled under the table just to get what he considered a "good" picture with Moolah and Mae Young! I kid you not. Apparently this same person (in his running around so wildly) was responsible for slamming a chair into Pat Patterson's leg. According to Dave, Pat looked as if he was ready to kill someone. Some people really need to learn a little self-control. In a related item, according to reports, this person was also at the Hall and was getting autographs from Ted DiBiase. After numerous autographs, Ted actually said "ok, that's enough." That's pretty sad when someone like Ted says "that's enough."

Once the M&G ended, we headed back to the Johnstown Holiday Inn to freshen up for the evening's festivities. The banquet room was laid off beautifully and no detail was overlooked. This was a truly classy event. After the opening ceremonies, Ray Apollo and Shane Bigelow (Bam Bam's son) gave what turned out to be (in my opinion) the most moving presentation of the evening; sharing their memories of Bam Bam. Needless to say, I found my eyes beginning to water. At this time, the meal was served. I must say that the food was delicious. I normally don't go into these events expecting the food to be stellar, but this time it certainly was. The Holiday Inn staff did a fantastic job in making sure that everyone was taken care of. I was also amazed at how closely the program was followed. After dinner, the inductions began. This hour moved along very smoothly with some great stories of the inductees. The highlight of the night was Pat Patterson singing "What a Wonderful World" and "My Way." He told everyone that it seemed to him like everyone just gives a little speech and then sits down. He wanted to do something different. He achieved his goal! Danny Hodge was the final inductee of the evening and with that, HoF weekend ended.

After hanging around the lobby and bar and mingling with some of the legends in attendance, we decided to call it a night and hit the sack. We knew that we needed as much rest as possible for the ride home on Sunday. We left Johnstown on Sunday at around 9:30. The HoF may have been behind us, but it was in the front of our minds.

While walking around the Hall, we were transported back in time. I traveled through bygone eras that were well before my time, an era that is, at times sketchy for me, and the era that was synonymous with my childhood. Going through the Hall reminded us that it is good to remember those things which we once held dear. It affirmed the belief that there is a child inside us all, regardless of whether or not we admit it. Once again, if only for a short time, we were kids in the hall.
5/24/07
LOTR, The Fourth Edition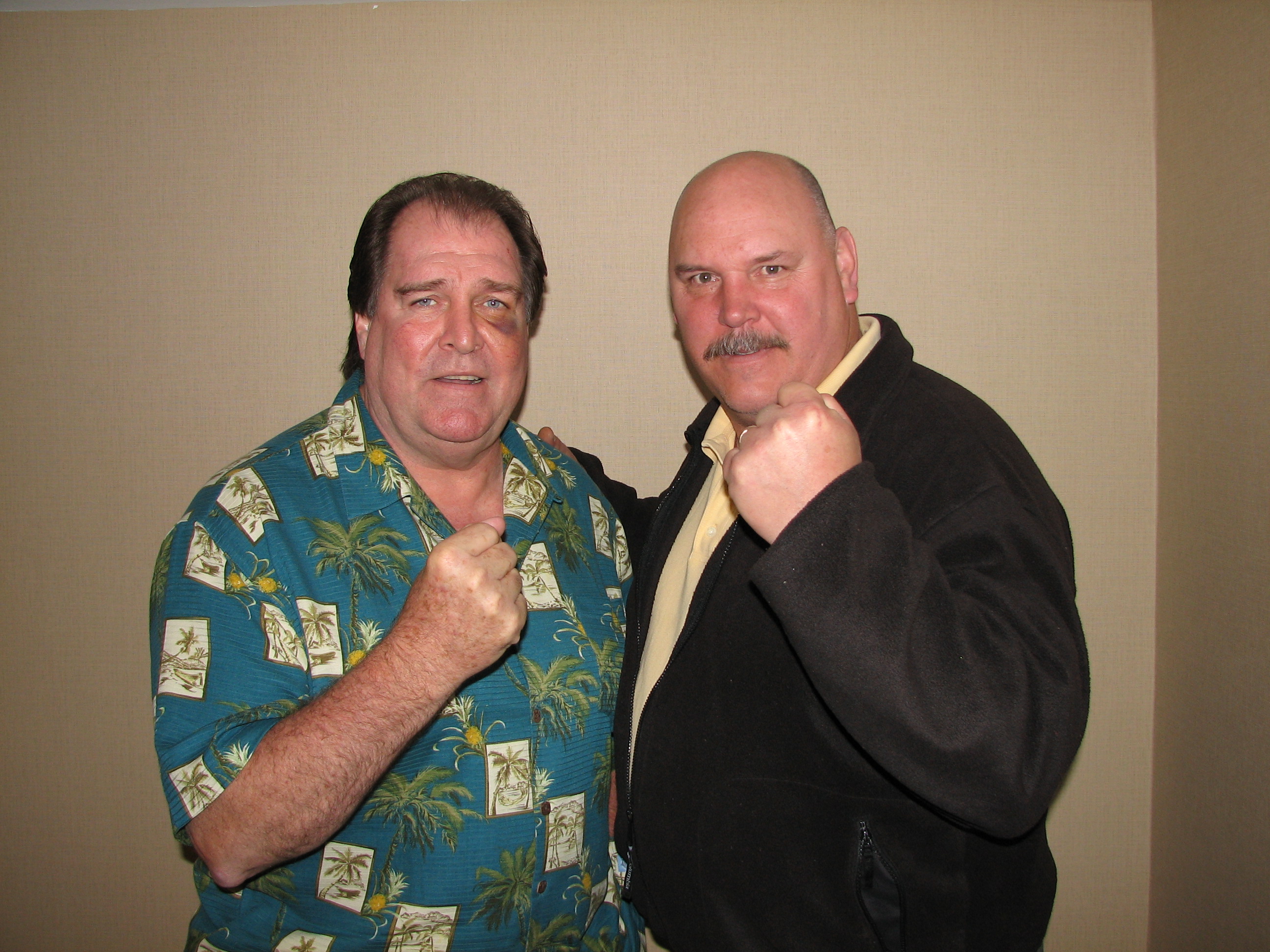 It has taken me a while to compose my thoughts regarding what I consider to be the best wrestling convention to take place in the northeast in quite some time, possibly ever! I am blown away by the ongoing buzz. I have a feeling that people will be talking about LOTR IV for quite some time. This is probably why...

For me, LOTR IV began about 6 months ago. I had known that Terence (LOTR) and James (3 Count Promotions) were planning to come together to put on a large-scale convention and I was asked to book some talent. Terence will usually call me and run potential names by me to get my opinion. This time was a bit different. It was right after the news broke that Corporal Kirchner was, in fact, still alive. I called Terence and threw out the idea of booking Kirchner for the show and he thought he would be a great addition, considering he has NEVER been around before. After a few emails, I was able to secure Kirchner's phone number. After chatting with the Corporal for about 10 minutes, the deal was done. Corporal Kirchner was the first confirmed guest for LOTR IV.

As the weeks went on, new guests were added to the show and we were waiting for all of the contracts to come back before the official announcement was made. Then one day, Terence came to me with the idea of getting Demolition back together for LOTR IV. As a fan, I thought this idea was GREAT!! What true wrestling fan wouldn't want to meet one of the most memorable tag-teams of all time? Besides that, it was an idea that Terence and myself had been tossing around for well over 2 years. I won't go through all of the details, but after a week or so of speaking with Bill Eadie (Ax) and Barry Darsow (Smash), we had the deal worked out and we now had the anchor guests (main event) for the show.

During the next couple months, I was able to secure Big Bully Busick as well as Harvey Wippleman and Steve "The Brooklyn Brawler" Lombardi. Everyone with whom I worked was extremely cordial and I couldn't have asked for a better group of guys to represent for LOTR IV.

Fast forward to last Thursday, the 26th. While out shopping for a few last minute items for the show, I got a call from Corporal Kirchner. Unfortunately he was stuck in Iowa and wouldn't be able to make it back home in time to catch his flight on Friday afternoon. He said that if he could drive it, it wouldn't get him in town for the show until Saturday morning. I told him that his safety and health was my main concern, but that if he wanted to try and make the haul over for the show, we would still LOVE to have him. His exact words to me were "Dan, I told ya I'll be there, and by God, I will." "I may be dead to the world, and completely exhausted, but I won't let you down." He called again on Friday morning and he said that he was on his way from Ohio. As it stood, he was going to make it. Unfortunately, I hadn't heard the last from the Corporal.

My first flight in was, in my mind, the biggest one of the night. I had to pick up Barry Darsow at 7:00pm. As I went up the escalator to meet him at baggage claim, I spotted him immediately. Barry and I had become friends over the phone in the past 6 months, but we had never actually met. When I saw him we shook hands and he gave me a big hug. I told him "man, I feel like I know you already!" His response was "well, we've talked on the phone enough, I guess we do."

Dave and I loaded up The Smasher and we were on our way back to the hotel. We caught up on how things are going with everyone and how the show was shaping up. I told him that we had run into a snag with Kirchner but as it stood, we had it resolved. He asked about the response for the show so far and I told him that it was phenomenal. I got Barry back to the hotel and settled in. He signed all of the mail order items and then went to film a shoot with RF Video. That one should be great!

Almost directly after dropping off Barry, I had to head right back to the airport to pick up Big Bully Busick and Road Dogg. Now THAT was a fun trip back, let me tell you. Once we arrived back at the hotel, the only talent that was not in-house yet was Ax (he was doing a show for NWS), Billy Gunn (flight didn't arrive until 10:00pm), and Corporal Kirchner.

Since we thought we had all our ducks in a row, we decided to go over to the Mama Maria Diner which was right around the corner from the hotel. They have a GREAT selection. The dinner guests included me, Terence, Sarah, Dave, and Big Bully Busick. We no sooner ordered our drinks, than in walks Eric Simms of ESS Promotions, Ax, and Billy Gunn. I finally got to see Ax and greet him. It was the first that he and I had seen one another since last August in Rockville for Greg Price's Capitol Legends FanFest. We decided to get a bigger table and we all shared some great conversation and food.

Just as we are wrapping up dinner, Terence got a call from James. He wanted to speak to me. I got on the phone and was informed that Corporal Kirchner was now in Cleveland, Ohio. Apparently the computers had crashed where he was and he couldn't get loaded up to get to Newark. He was wondering if we could fly him in, first thing in the morning from Cleveland airport. We looked at flights and they were in the $800-1000 range. Terence and James were both ready to book the flight because we didn't want any no-shows. However, just as we were about to book the flight, Corporal called me and told me that the computers were back up and they were loading his rig as we were speaking. At this time, it was 12:30am. He said he would be on the road by 1:00am and was driving straight through to Newark/Carteret. He made the 8 hour drive just so his fans wouldn't be disappointed! That spoke volumes for the Corporal, in my eyes.

So, after a long day, we decided to turn in, knowing that sleep was of the utmost importance.

I woke up at around 7:00am to face the day. I arrived in the ballroom and found that there were already fans mingling in the registration area/lobby! This told me that it was going to be a busy day. I set up the autograph tables and got everyone in order where they would be sitting. After a quick huddle with all the staff, we broke to rock and roll.

The doors opened on time, at 9:00am. The fans rolled in and we were off. Terence and James asked me if I wanted to emcee the event and I happily agreed. After making a few general announcements, it was time for the VIP ticket holders to begin lining up.

The first panel consisted of The Brooklyn Brawler, Harvey Wippleman, Sherri Martel, Jacques "The Mountie" Rougeau, Big Bully Busick, Road Dogg, Billy Gunn, and Bart Gunn. I think that everyone in this group had a GREAT time. Unfortunately, due to time constraints, Brawler and Wippleman had to leave before anyone else. However, everyone who purchased an autograph/polaroid from either of them, walked away with those purchases fulfilled. Allow me to dispel an idea that has been circulating among the convention ticket holders. Many people believe that Harvey Wippleman and The Brooklyn Brawler seemed like they did NOT want to be there and that they seemed uncomfortable. I can tell you that NOTHING could be further from the truth. These guys were true gentlemen and extremely professional. You have to understand that this event was a new arena for them, so to speak. They were actually taken aback by how much people wanted to talk with them and seemed to enjoy them being there. You must also understand that just because one of the wrestlers doesn't take the initiative to delve into your life story, doesn't mean that they don't care about you or appreciate you coming to see them. Believe me; Brawler and Harvey were class-acts. After they left and I took them to their room, they couldn't stop talking about the show and how much fun they had. They even said that they would LOVE to work for LOTR again, anytime!

We went a little over our scheduled time for block one, but those things are to be expected. Everyone signed a LOT of autographs and seemed to have a great time. The fans were all smiles and couldn't soak up enough of the atmosphere. For anyone who was wondering why we moved The Outlaws to that side table, it is very simple. We realized that the people who purchased separate autographs for block one, mainly had Outlaw tickets. Due to timing, we thought it would be best to have a line for just them which led out into the registration area. It worked out and everyone was accommodated. The same thing happened for Jericho during the second block.

Block one no sooner wrapped up and it was time for number two. At this time I was told that Bill and Barry were looking for me. I found them and we proceeded to the green room to get the remaining wrestlers and the first person I saw in the hallway was Corporal Kirchner. He made it! I was so happy and proud that he went through what he did to make it to the show! I escorted Demolition, Corporal Kirchner, and The Nasty Boys down to the holding area. Before they were introduced, the announcement was made regarding the next show, Legends of the Ring V! What a great show that is going to be. Keep checking the site for updated information.

The stars were introduced and the insanity began…just kidding! The wrestlers for this block were, The Nasty Boys, Demolition, Corporal Kirchner, Captain Lou Albano, and Chris Jericho. What an AMAZING lineup!! Everything went great. The line ran more smoothly than for the previous block. I know there were a lot of people who had purchased countless extra items for Demolition and the Nastys. Can you believe how different Jerry Sags looks!?!? It is unbelievable! He lost a bunch of weight and looks amazing. I didn't even recognize him until someone pointed him out.

Unfortunately, near the end of block 2, The Nastys had to leave to catch a plane. However, just like Brawler and Wippleman, they stayed until everyone who had paid for an autograph/polaroid received what they paid for. My hat goes off to them for going that extra mile when they didn't have to. Thanks guys!

Just as I finished up getting everyone's Nasty Boys stuff signed, we had to do pretty much the same thing with Demolition. They had the next flight to catch. At this time I had to leave to get the Nastys on their flight but I was told that Demolition was the same way; they stayed until everyone had everything they wanted.

When I returned, the hotel staff already had the room pretty much cleared out. At that time, I realized that our event was over. Just like Christmas…all the hype and anticipation, and it's gone just that quick. I sat down and tried to process everything and I couldn't help but be so proud to work with such a great group of people. James and Terence put on a first-class show. I certainly hope that the fans are happy with their experience. We apologize for the timing issues and the rushing around, but we are certain that we accommodated everyone.

I decided to stay at the hotel on Saturday night as well. I was too tired to make the long drive back home. After waking up on Sunday, I went to get breakfast with Dave, Terence, James, Sarah, and Zada (a young lady who also helps with shows and became a dear friend this weekend). After breakfast, I gathered all my stuff from the room and took it to the car. At this time, I had a chance to say hello to Chris Jericho before he left for the day. It was something that I hadn't gotten to do the day before.

I met Corporal Kirchner and we had a meeting in my room. We talked for about ½ hour and let's just say that there is a chance that the LJN figure won't be the last figure you ever see of the Corporal! I took him and his lovely wife to retrieve his truck at a stop off the NJ turnpike. I must say that I consider it an honor to know the Corporal and to be friends with him. He is a true gentleman and DEFINITELY a man of his word. No one could have blamed him if he wouldn't have shown up, but he did. And according to him, "brother, I'm glad I did because these fans were GREAT!"

Countless thanks go out to the superstars who made this weekend so special. To the Nasty Boys, Demolition, Sherri Martel, The Mountie, Corporal Kirchner, Chris Jericho, Billy Gunn, Bart Gunn, Road Dogg, Captain Lou Albano, The Brooklyn Brawler, Harvey Wippleman, and Big Bully Busick…on behalf of the promoters, the staff, and the fans, we say…THANK YOU! You transported us back in time for one day where we were able to relive the memories that made our younger years so special. For that, we are eternally grateful. God bless each of you.

And to the fans…all I can say is WOW! You wonderful folks never cease to amaze me. You come to these LOTR events and spend your hard-earned money to support us and what we do. I knew that there was already a great buzz about the show, but when I saw how many people packed that hotel, I was floored! It is because of you, and the passion that we share, that we continue to do this. We certainly hope you will continue to support us so that we can keep bringing you these special events. I know I speak for Terence and James when I say that from the bottom of our hearts, THANK YOU AND GOD BLESS YOU!

A personal note from me: I want to thank you for coming to the show. Many of you knew which wrestlers I had booked for the event (Brawler, Wippleman, Busick, Kirchner, and Demolition) and I received countless compliments and thanks regarding them. Thank you for that. It really means a lot. I only do this because I enjoy it and when I find out that you had a great time, it makes my day. I pray that God keep you safe and bless you richly.

Don't forget about LOTR V on Saturday, August 25th!!!!!
05/02/2007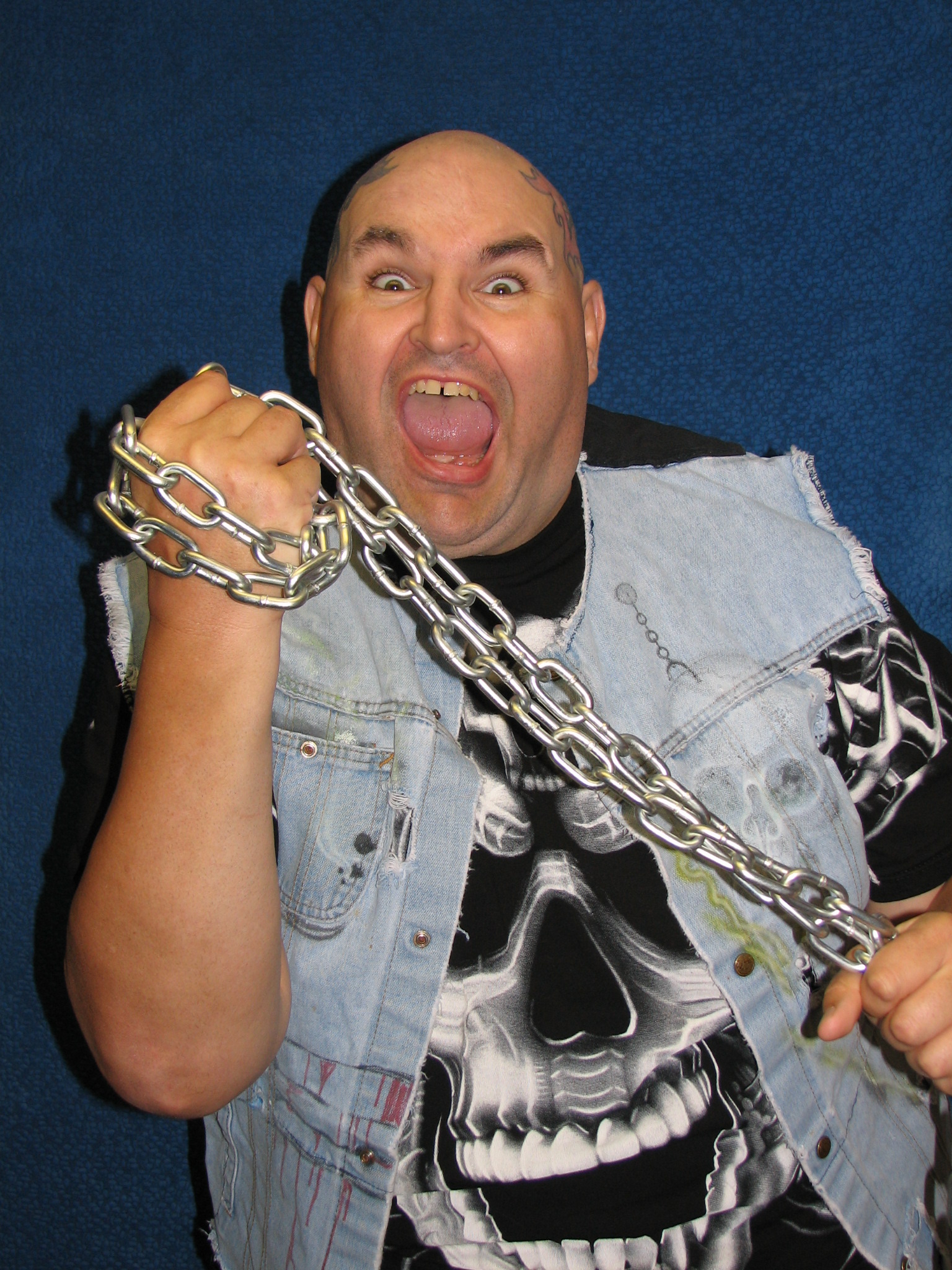 At LOTR's second convention, The One Man Gang was a featured guest. Many were skeptical that Gang would show up. Show up, he did! After that show, many fans constantly asked for Gang again at shows. Unfortunately, in this business you can't book one guest over and over. I was always a huge mark for Gang and also wanted to be able to use him again. At the time of his LOTR II appearance, the OMG classic figure was set for release. As it turns out, getting these classic figures signed has turned into a BIG hobby. Fast forward to about a year ago. Terence (owner of LOTR) and I began throwing around the idea of having Gang do a signing for us at Carson's Pro Wrestling World in Allentown, PA. Terence liked the idea and it was agreed that we definitely wanted to do it. A while later, Bud Carson decided to join us in this venture as well as Ray D. (formerly with Chiller Theatre). I made the call to Gang and he made the verbal commitment to attend. The contract was sent, signed, returned. The plane ticket was purchased and sent and we were ready to go!
FRIDAY (10/13)
Believe me when I say that I have NEVER been superstitious. However, I tried not to think of the fact that the day that Gang was arriving was Friday the 13th, in OCTOBER! I left home at around 10:00am. Gang's flight was scheduled for arrival at Lehigh Valley Airport at 12:40pm. Dave and I arrived at the airport and waited for about 45 minutes. Gang's flight was right on time and we greeted him at the gate. It's not as if we had to search high and low for him. Gang is pretty difficult to miss! After exchanging salutations, we headed out. On the way to the hotel, we decided to get some lunch since none of us had eaten all day. Friendly's was decided upon. We were joined by Terence a few minutes after we arrived and we all shared good stories and laughs. Gang still follows the current product so it was nice to hear his thoughts and insight.
After lunch, we headed for the hotel. Once we settled in, we all loaded up and headed over to Pro Wrestling World. I had told Gang about Bud's store and he had told me that he couldn't wait to see it. We arrived at PWW and were greeted by Bud Carson himself. It is always great to see Bud. As Terence, Dave, myself, and Bud talked of the next day's events, Gang made his way through the store. At this time, the store wasn't open for business, so it was nice for Gang to be able to wander around and take his time. I don't think that he missed looking at one thing! Gang will be the first to tell you that he is a fan first, wrestler second.
Once Gang was finished, we had an impromptu photo shoot (one of the photos can be seen with this article). I could tell that it brought back a lot of great memories for Gang being in front of a camera once again. It's almost like a switch turned on and he was "The Gang" once again. I have to say that it was quite an honor to be able to take posed shots of one of my favorites of all time!
After leaving Bud's, we traveled back to the hotel. On the way, we drove by Ag Hall. As we passed, Gang told me that he used to work there back in the day. Once at the hotel, we decided that we would leave for dinner at 7:30pm.
Gang had the room adjacent to ours, so at 7:15, I went to his room to see if he was ready. We watched a few minutes of CMT's biography of Ron White of the Blue Collar Comedy Tour. Funny funny funny.
It was time to head out and Charlie Brown's was our destination. Charlie Brown's is one of; if not THE best restaurant I have ever been to. The dinner guests included Dave, Terence, Terence's lovely wife, Sarah, Bud Carson, myself, and of course, Gang. We ate, drank, and laughed. We had a wonderful time sharing more stories and finding out things that we didn't even know! For instance, did you know that Slick's father is Rufus R. Jones? We didn't. We had heard rumors that it was Ernie Ladd, but Gang set the record straight for us. Gang told us how he and his friend had taken a photo of Ric Flair in Spartanburg and had it blown up into a poster. When Flair arrived at the next event, Gang and his friends asked Ric to sign their posters, and he did. Gang said that he still has that very poster.
After dinner, we headed back to the hotel and didn't waste any time getting to sleep. We knew that a big day was waiting for us on Saturday.
SATURDAY
The hotel served a very nice continental breakfast. After filling the tank, we loaded up and headed to PWW for Gang's much-anticipated autograph signing. When we arrived, we were greeted by Ray D. Ray is of course, one of a kind! Around noon, Gang and I headed to the back room to begin. The signing was from 12-3pm. Most of the fans decided to come between 1-3. The first hour was mainly the promoters' items.
As the signing reached full swing, we had a steady flow of fans. I want to extend a heartfelt thanks to the fans that came out and made this event a success! We had fans from New Hampshire, Connecticut, New Jersey, New York, Delaware, Pennsylvania, Maryland, and Virginia! I believe that everyone was excited to have their classic figures signed as well as countless other items. Gang took his time with each and every person. He is a true class act.
As the signing wrapped up, it was time to get Gang back to the airport. I was very sad to see him go. When we dropped him off, he gave me a big bear hug and thanked us for taking good care of him and with that, the weekend was over.
For those of you who missed out, I am sorry. However, I will be in contact with Gang and working on something very big for the summer. We have a verbal commitment; it's just a matter of hammering out the details.
I wish to share my deepest gratitude with everyone that showed up this weekend: Jeff, Tammy, Steve, Ray R., and SO MANY MORE! Thanks to Terence, Bud, and Ray for teaming up for a GREAT weekend. Thanks to Dave for always being there. Most of all, the biggest thanks goes to The One Man Gang. You're the best, Gang and NO, I still ain't eatin my veggies!
For official photos of this event, please click here
God bless you to everyone who came out! Keep checking back to see what LOTR, Wrestling 24-7, and PWW will come up with next!
10/16/2006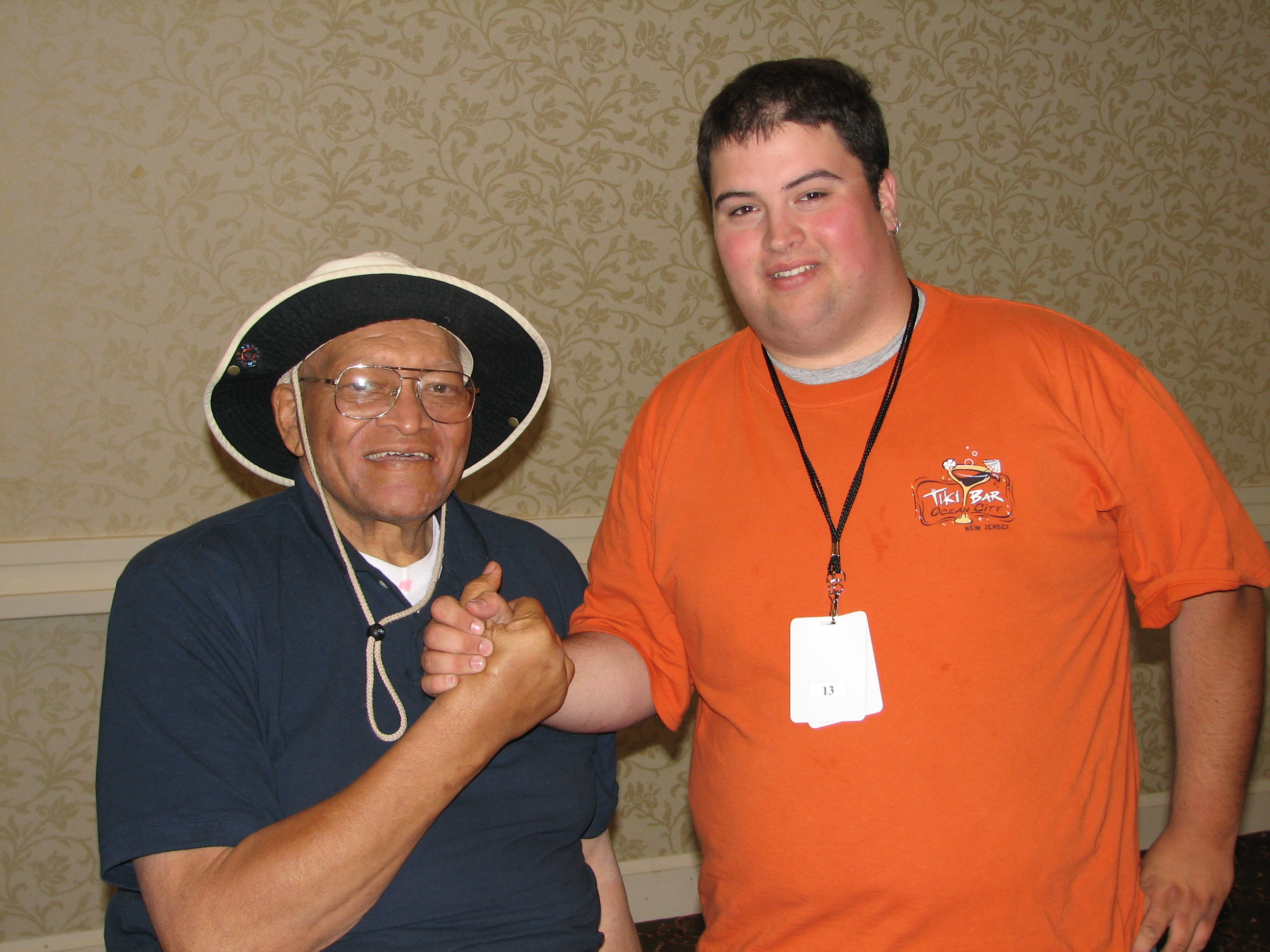 By: Dan Michaels
I would first like to start off by apologizing to everyone who has been checking the site only to find that NOTHING has been going on. For those of you who know me personally, you know that my internet access over the Summer is extremely limited. That said, it's time to get back into the swing of things.
I was lucky enough to have attended what was one of THE BEST conventions this past weekend. As a veteran of Greg Price's shows (Mid-Atlantic Legends & NWA Legends) I must say that I was extremely impressed with his latest offering-Capitol Legends FanFest. There is so much that I would love to cover in this article, but I'm afraid that I just won't have time.
Dave and I started out on Friday afternoon to head down to Rockville, MD. The great thing about this show was that it was only about 45 minutes away from my home. For all of Greg's other shows, we faced a 6-8 hour drive. We arrived at the Doubletree hotel to find the lobby full of convention-goers. We got in line to pick up our VIP tickets. After doing that, we waited for the doors to open. I must say that the hotel was rather nice. I was thinking about staying, but with the trip only taking 45 minutes, it really didn't make that much sense.
Once the doors opened, we were immediately bombarded by a plethora of wrestling merchandise. I would say that the biggest common factor for all of the vendors was the WWE Classic Figures. It never ceases to amaze me at just how popular they have become. The first "event" scheduled was a Q&A with Bill "Masked Superstar/Ax" Eadie (7-9pm). Bill is such a wonderful person and has so many good stories, that I was NOT going to miss this. As expected, Bill didn't disappoint. Lots of great questions were asked and answered in like fashion.
Our next event was dubbed "One-on-One" with Jim Cornette & Bobby Heenan. Can you imagine this?! Jim Cornette set the standard for Q&A's at Greg's first Charlotte FanFest, I couldn't imagine how he could ever top that. However, adding Bobby "The Brain" Heenan to the mix was a stroke of brilliance. I stayed for about 1/2 of this Q&A. The room was rather hot and I was much more comfortable in the lobby of the hotel.
The night came to an end at around 11:30pm. After sitting in the lobby and watching several wrestlers check in to the hotel (managed to snag a pic with Rick Martel!), we decided to call it a night.
Saturday morning came slightly quicker than I had hoped. My mind was so full of thoughts that I found it amazingly hard to get any sleep on Friday night. So, I dragged my tired self out of bed and headed back to Rockville. This was the day that would have two of the three autograph signing sessions. I arrived at the hotel, only to be saddened by the news that Bunkhouse Buck, Dick Slater, and Superstar Billy Graham were unable to attend FanFest. More on that at the end of this article.
At first, I was unsure about purchasing photo-ops. However, after much deliberation, I decided to purchase a few. The ones that I chose were Stan Hansen, Sherri Martel, Del "The Patriot" Wilkes, Rockin' Robin, and Ernie Ladd. All of my photo-ops were on Saturday. It was now time for the first session. I was number 13 in line. Now normally this would be a good thing, but in this case it meant a last-minute scramble/shuffle to get my items organized to be signed. I like to have the items in order of who is sitting where so that it helps keep the line moving.
It was great to see and make friends with Eddie Cheslock. For those of you who do not know Eddie, he was one of the main photographers from the Mid-Atlantic/Crockett years. I only wish I was 1/2 as talented as Eddie when it comes to taking shots.
The first signing ended for me very quickly. With having an early number, once I was through, there really wasn't much to do. So, I went to the hotel lobby and hung out with Ray D. Ray used to assist with the Chiller Theatre conventions and has become a GREAT friend. The vendors at this show were GREAT. I finally was able to get my Sir Oliver Humperdink and Billy Jack Haynes shoot interviews from RF Video. I will update the "DVD Reviews" section as soon as I finish watching them.
Speaking of vendors, K&S Promotions made the RIGHT choice in bringing in Buddy Jack Roberts!!! He seemed to have a steady line for his entire time. The other vendor guests (including K&S's other guests) didn't seem to do as well all weekend. For those of you waiting to hear a funny comment about Virgil, I don't think that one is needed. Well...ok ok, here's one. Apparently someone had left their credit card at or near Virgil's table. The gentleman making the announcements informed the audience that Virgil had returned the card to the registration booth. I couldn't believe that Virgil actually RETURNED the credit card. I figured that he would at least charge some of his merchandise to it! In reality, that would have been the only way he would sell his gimmick. It seemed like NO ONE wanted anything to do with him. He should be used to that by now. Ok...I'm through bashing Virgil.
The two signings went by rather quickly and it was time for the Hart Foundation Q&A. As I was walking to the Q&A, I passed by the hospitality suite and who do I see inside but my good friend, Boris Zhukov. It was great to see Jim. He joined me for the Hart Q&A and we had a great time! I don't get to see enough of Jim so this was quite a treat for both of us. I stayed for a good hour and then had to get out to the lobby. I was having a rough go of it with my back and stiffness was beginning to set in. I completely missed the Midnight Express Q&A but I heard it was great. The Hart Q&A was pretty well dominated by Bret questions but that was to be expected. FYI...Bret had the "Quote of the Week." Look at the end of the article for that."
After another restless night, it was time to wrap up FanFest with Sunday's signing session. The session included the Hart Foundation, Ernie Ladd, Rocky Johnson, Del "The Patriot" Wilkes, Tony Atlas, and Ivan Koloff. I must say that Sunday had the most attendees numbering in the 450+ range. This was great news for Greg, but not as great for the patrons. Unfortunately (and by no fault of his own), Ernie Ladd was writing VERY slow and deliberate. Due to his age, his condition has gotten VERY bad since we last saw him inducting JYD into the Hall of Fame. Since Ernie was the second person in the autograph line, the line itself moved VERY slowly. After about 150 people went through (just guessing), time was of the essence and the decision was made to move Bret down in front of the other signers. He was made the first guest that patrons received a signature from and Ernie Ladd became the last. This was a better move. Then came the disappointing news that Bret had to leave to catch a flight. This left (I'm going to guess) about 100-150 people WITHOUT getting Bret's autograph. Needless to say, there weren't too many happy campers out of the non-getters. So, an autograph signing that was only scheduled to last from Noon-3pm wound up lasting until almost 5pm! Kudos to the other wrestlers who stuck around long after their contracted time! I can't thank them enough.
I would like to address the no-show situation. Being someone who has, and continues to assist with wrestling conventions, I must say that it is usually NEVER a promoter's intention to deceive and/or mislead their patrons. Greg realizes that people paid their hard-earned money to attend his event. However, as a promoter, there are certain variables that come into play. Is a wrestler going to show up? Will they be easy to work with? What do I do if someone DOESN'T show up? These are all questions that come up. Superstar Billy Graham, Bunkhouse Buck, and Dick Slater failed to appear. Do I know the whole story? No. Do I believe that EVERYTHING that could have been done, was done to prevent this from happening? YOU BETTER BELIEVE IT!!! I am sure that Greg felt/feels awful about what happened, but if you are still bitter about what happened, you need to ask yourself a question. If those 3 wrestlers had NEVER been announced, would you still have purchased your tickets as you did? My answer is yes. I think that most everyone would agree with that.
All-in-all this was a STELLAR weekend! I want to personally thank everyone who came up to me and complimented me on the site and told me that they check it often. A special thanks to Joe Pinkas and Sean (sorry, Sean, I don't remember your last name). As always, a HUGE thanks to Greg Price for providing me with a weekend of memories that will last a lifetime.
The award for most fan-friendly goes to...Del "The Patriot" Wilkes!!!
Quote of the Week
This quote was from Bret Hart during his photo-op session. One of the convention-goers brought along pretty much EVERY belt that Bret ever held throughout his career and wanted Bret to hold two of them. When the boy handed them to Bret, one of them accidentally fell out of Bret's hands and fell to the floor. As the crowd kind of ooohd and ahhhd at the fact that this expensive piece of memorabilia had fallen, Bret laughed it off and shrugged and said "Well, it's not the first time I dropped a belt!" Absolutely CLASSIC!!!
Check out the
Photo Albums
for pictures from this past weekend's event as well as photos from various events I went to over the Summer.
8/17/06
Wrestling Reunion IV Report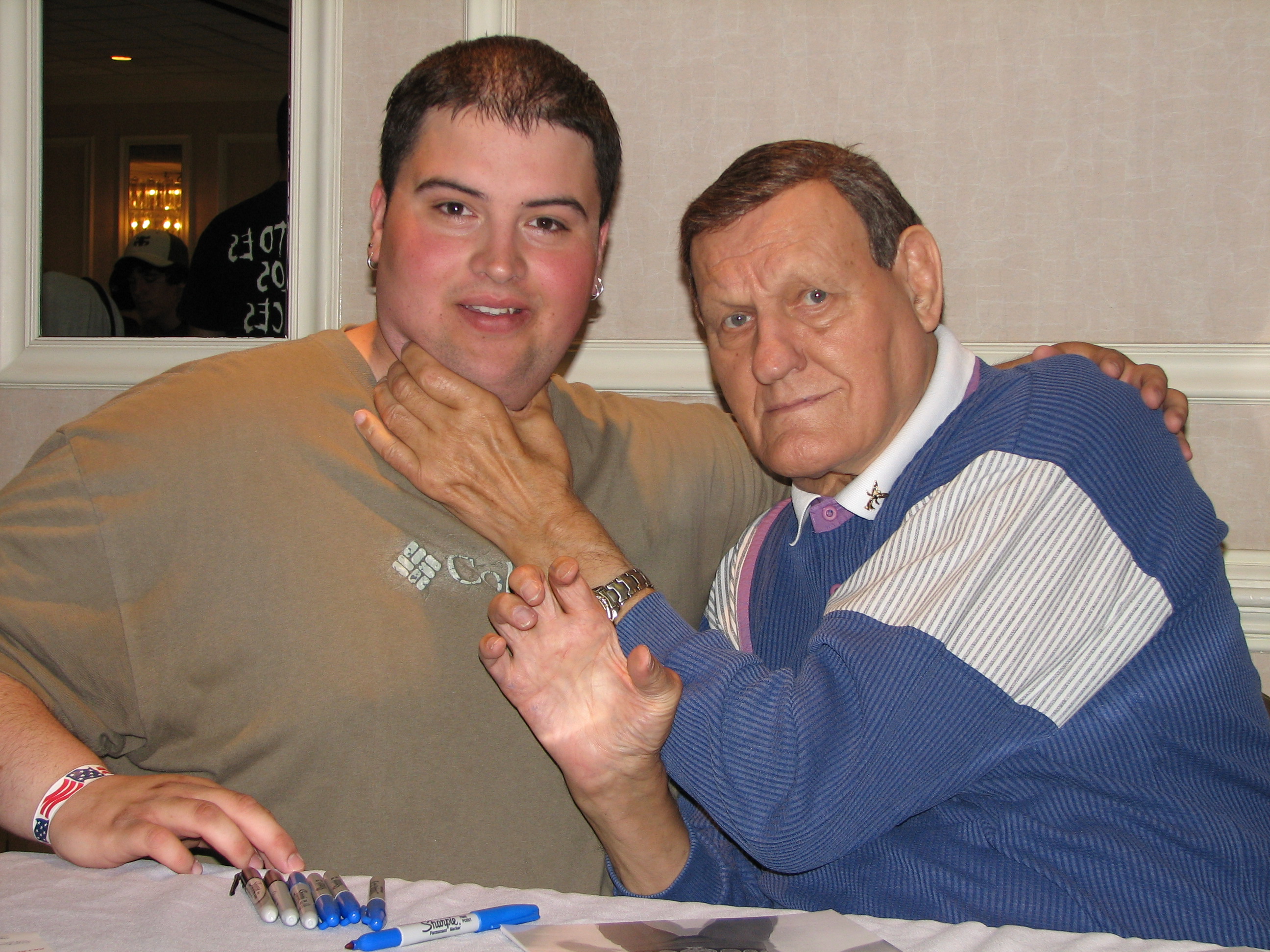 By: Dan Michaels
Wow! That is all I can really say about "Wrestling Reunion IV." Well, ok…It's not ALL I can say, but still. Here goes…
This getaway weekend couldn't have come at a better time. I was involved in an auto accident on Wednesday night which left my car unable to be driven. Since I wasn't at fault, the other driver's insurance company flipped the bill for a rental with UNLIMITED mileage. That is the WRONG thing to tell me. If you tell me unlimited mileage, I'm gonna take you up on it. Anyway, long story short, I picked up the rental on Thursday night and then began my voyage to Carteret, NJ.
FRIDAY
10:00AM
Departed from home and made the trek to Carteret. The ride went by extremely fast. Say what you will, but cruise control can make all the difference in the world as far as time and fuel economy.
2:30PM
After a few brief pit stops, Dave and I arrived at the Holiday Inn to be greeted by James, Mambo, Terence, Adam, Ray R., Eric Simms, and probably others that I am forgetting…my apologies. I was told that our room wasn't ready at the moment, so we waited in the lobby. It was then that I was informed that Tim Beal had canceled out on Outback Jack and Miss Jones. The latter of the two really fell into the "who gives a crap?" category. However, I had wanted to meet Outback, so I was slightly disheartened to hear this news. To my delight, I was told that Mambo, James, and Eric has pooled their resources and were going to bring in Outback on their own. This was truly great news! Terence handed me Sir Oliver Humperdink's flight itinerary, and it was just a matter of waiting until 5:00pm, when his flight was arriving.
2:45PM
My cell phone rings and it is Sir Oliver. I am thinking that it is awkward for him to be calling me seeing as how he should be in the air by now. He informed me that his flight had been delayed by almost 2 hours and that he would call me when he landed. I thought to myself, no big deal, delays happen all the time. Boy, I should have knocked on wood after I thought that-more on that later. At least his flight wasn't canceled, then we would have had some scrambling to do. James was on the phone at this time and he asked a general question to everyone whether or not Newark Airport was closed. I told him what info I had just received from Sir Oliver, but that he hadn't mentioned anything about cancellations. The desk clerk said that there were some bad storms surrounding the area and that might be causing some pretty big delays. Oh boy, I could already feel the night getting longer and longer as the moments went by.
3:00PM
Since our room wasn't ready, Dave and I decided to hang out with Eric in his room. We spent a good ½ hour calling airlines to check for delays. Believe me, we had no trouble finding them either. Every flight that could have been delayed, was delayed. In an effort to save some time, I offered to pick up Mike Shaw (Booger), since he and Humperdink were on the same airline and would be arriving at almost the same time. This sounded good at the time…yeah, at the time.
3:45PM
We left Eric to take a nap and headed to our room, which was now ready. After settling in, we attempted to take a quick power nap. Yeah, THAT worked! Call it nerves, call it eagerness, but sleep was not our best friend at the time. Unfortunately, Dave got sick from a migraine. That wasn't pretty.
6:20PM
Left the hotel and headed to Newark Airport for Sir Oliver (Mike Shaw's plane wasn't due in until almost an hour after Humperdink's, so Eric was going to take care of him) and man, did it start pouring. You know, we complain about flights being delayed, canceled, etc., but I'll be honest…it can be difficult enough to navigate a car in driving rain, I can't imagine what it's like for airline pilots! God bless them for what they must go through. By the way, I should mention that at this time (actually since about 3:45pm), Terence was on his way to pick up Killer Kowalski at JFK Airport in Long Island, NY. His flight was scheduled in at 5:00PM, but didn't arrive until almost 10:00PM!
6:45PM
Sir Oliver walks out of the gate and we greet one another. What a pleasure it was to see such a wonderful man. He is truly a class-act. We shared the usual conversations, weather, families, etc. The weather for the ride back to the hotel was just like on the way up. We were sort of pressed for time due to the fact that RF video had booked Sir Oliver for a shoot interview and was on a tight, but already messed up schedule due to flight delays. Thank goodness that Rob had several crews ready and waiting.
7:20PM
We arrive back at the hotel and as soon as I walk in the door, Eric asks me to go with him to pick up Booger. No problem. I had Dave take Sir Oliver to the hotel restaurant (very good, by the way!) while I ran with Eric. Eric and I had some good conversation on the way to the airport. I went in to retrieve Booger while Eric was probably being harassed by the sidewalk police who keep people from leaving their cars at "drop off/pick up" for too long.
7:40PM
Booger walks off the plane and looks much the same, with a few differences. One being that he lost a good deal of weight. Good for him! Eric and Booger had some good conversation on the way back to the hotel. I was getting pretty tired by this point, so I just took it all in.
8:20PM
Arrive back at the hotel, only to run to McDonald's to pick up two ¼ pounders with cheese for Booger. No biggie. Glad to do it.
8:40PM
Get back to the hotel to join Dave and Sir Oliver as they are finishing up their meal. I was starved at this point. I ordered a small dinner consisting of chicken fingers and (way TOO STRONG) garlic mashed potatoes. Sir Oliver departed to go catch up with Kevin Sullivan and then to do his shoot with RF Video.
9:40PM
Now was the waiting game. I had the distinct pleasure to speak with Kerry. He told me that he checks the site quite frequently. My most sincere gratitude for that, Kerry! We (myself and Eric) found out that Outback Jack and Ron Bass would be arriving at around the same time (near 12:45AM).
12:00AM
After a few trips to the bar, Eric said that he was ready to go. We left and parked at the airport. First up was "Outlaw" Ron Bass. What a great guy he is! I had wanted to meet Ron for a long time. He was always one of my favorites. Eric stayed with Ron at baggage claim, while I went to pick up Outback Jack. I must say what an AMAZING person Outback Jack is! It was truly a pleasure to be able to chat with him. While at the airport, Outback informed us that he had forgotten to bring along an eye patch. Eric asked if I would mind taking Outback over to the CVS in the morning to pick one up. But of course. We attempted to go to the diner, but they were closed. We settled for a few snacks from the local 7-Eleven. A wonderful end, to a tiring day.
A great quote that happened in the car with Outback Jack and Ron Bass:
Ron: "Geez, Jackie, how long's it been since I seen you last?"
Outback: "Wow, mate, I guess it's been close to 15 years."
Ron: "Yeah, I guess it has." "I remember the first time I saw you was when you were in Vince's office."
Outback: "Oh yeah, I remember that."
Ron: "Yup, I had my whip and you had your knife."
Outback: "Ha! Ha! Yeah!"
Eric Simms: "Sounds like you guys were getting ready to shoot a really bad porno!"
CLASSIC!!!
2:30AM
BED!!! Only to find out that I STILL couldn't sleep!
SATURDAY
7:45AM
Alarm…barely awake…VERY tired!!!!!!
8:00AM
Meet Outback Jack in the lobby and take him over to CVS for his eye patch.
8:30AM
After taking Outback to CVS, Dave and myself invited him to breakfast. We all ate well and shared some great conversation. Amazingly, NOT wrestling-related. We talked about what he is doing now (commodities broker) and discussed the ins and outs and finer points of today's economy. Definitely early for such a detail-oriented conversation, but stimulating nonetheless (yes, I like to learn knew things not matter how detail-saturated they are).
9:40AM
Finish up breakfast and go to find Sir Oliver. Take Sir Oliver to breakfast.
10:00AM
Enter ballroom. The rest of the time is pretty much a blur. A LOT was happening in a SHORT amount of time in a rather SMALL space. Everyone seemed to be having a great time, including the wrestlers themselves. I didn't hear one complaint from anyone. Everyone loved the selection of photos that LOTR had for Mike Shaw. In a classic move, Terence had one of each of his gimmicks. Norm, Bastion Booger, and Friar Ferguson. The only complaint that people made was that they couldn't make up their minds. I had a lot of compliments on the Sir Oliver Humperdink photo as well. It was a print out of his ONLY (individual) WWF Promo. People really liked it. I finally got to meet Billy Jack Haynes. That was my highlight of the weekend!!! I have liked that man for I can't tell you how long. And I was VERY pleased with how cordial and inviting he was.
3:45PM
Loaded up Ron Bass, Sir Oliver, and Outback Jack to take them to the airport. I must say that I was saddened to see our car ride end. I was most sad to see Outback Jack go. I truly enjoyed his company and kindness. He asked me to keep in touch and I will gladly do so.
4:15PM
Head home for sleep!!!
All-in-all, this was a weekend for the record books. I am sure that I forgot something that I mean to say, but that's what happens when 48 hours becomes a blur. I want to extend a heartfelt thanks to Sir Oliver Humperdink for being the first wrestler that I ever booked and hopefully not the last. To Ron Bass for being so welcoming and also to Outback Jack for being one of, if not THE nicest wrestler I have ever met. He is truly a legend. Yes, I said legend. Believe it…or not.
A special thanks goes out to Terence, Mambo, James, Eric, Adam, Ray and so many others. Your continued kindness to me does not go unnoticed. I want you each to know how much I appreciate you. I truly hope that this is not the last time that we get to work together! May God bless and keep you all, always.
Well, that's all for now. I hope that you've seen a little bit of what goes into pulling off one of these shows, and this was only MY portion of the weekend!!!

The award for "Most Fan-Friendly" goes to…Outback Jack!
Quote of the week:
Eric Simms talking to Northwest Airlines voice-response customer service call center.
Eric: "Agent"
System: "Did you say 'flight status?'"
Eric: "No, Goddammit!"
System: "Oh, you said 'good-bye'"…click. I darn-near pissed my pants when this happened!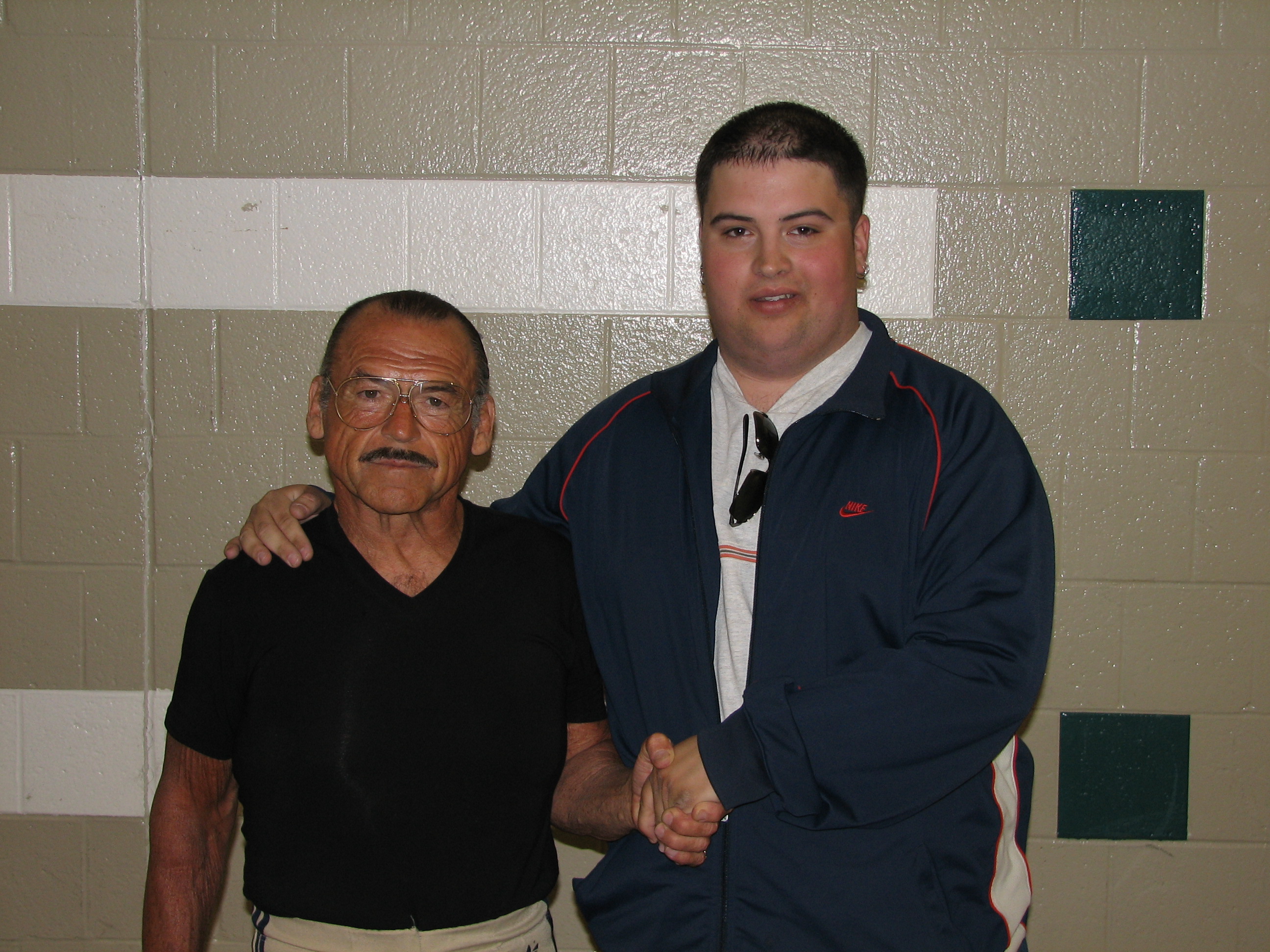 By: Dan Michaels
For one reason or another, Ivan Putski has ALWAYS eluded me. I have had (that I can remember) three different opportunities to meet him. He was at LOTR I, WR I, and also made an appearance for LOTR at Carson's Pro Wrestling World. So, when I found out that he was making an appearance this past weekend (5/20/06) at Pro-Wrestling World, I knew that I had to get to the area for that.
Unfortunately, circumstances with work didn't allow me to be able to make it to PWW for the signing (which was also the reunion of Ivan with Tito Santana). I was very disheartened by this because I enjoy supporting and hanging out with Bud Carson. I know I say it a lot, but Bud is truly one-of-a-kind. So, other arrangements needed to be made. I had found out that Eric Simms (Ivan's agent for the weekend) of ESS Promotions was taking Ivan to Wind Gap, PA (about 25 minutes from PWW) for a show later that evening. This was my opportunity.
So, myself and Dave left from my job and headed to Allentown. The original plan was to stop by and see Bud, even though his signing would be over. I called on the way and he told me that he would be leaving before I got there but that he was going to the show in Wind Gap. Great, I get to see Ivan Putski AND my good friend, Bud Carson. Gotta love it how things work out.
On my way to Allentown, another good friend, Terence Brennan (Owner of LOTR) called me and asked if I was planning on going to the show. I told him that I was and he said that he was as well. He then asked me what my plans were for dinner. He had mentioned that Eric Simms and Ivan Putski were going to eat at a local Chinese restaurant in A'town. I called Eric and was told to definitely come over and have some food and chat. We did, and I must say that it was great to see Eric, Terence, Sarah (T's Fiance`), Scott Epstein (Ivan's Agent), and Ivan himself. We talked for about 20 minutes. Mainly discussing with anticipation, Wrestling Reunion IV. We know that it is going to be a blast! Can't wait!
After we finished our meals, we left for the show in Wind Gap. We got to the show (middle school) and I was pleasantly surprised at the turnout. Granted it was only $5.00 admission, but it was still a GREAT crowd. Other stars on the card included "Mr. USA" Tony Atlas and Tom "Patriot/Sal Sincere" Brandi. I spoke with Bud Carson and he informed me that his signing with Ivan/Tito didn't draw as well as expected. This broke my heart. If I could have handed Bud a check for $1,000.00 right there, it would have been his. Unfortunately, that is the nature of the business.
Once the show had finished, everyone went to a little sports bar called Detzi's. All I can say is WOW. If you are ever in the area...oh heck, who cares if you're in the area?!?! You need to make the trip to Detzi's just to taste their AMAZING food!
The night officialy ended at 11:00pm. We said our good-byes and hit the road for the 3 hour journey. I want to personally thank Eric Simms of ESS Promotions for his never-ending hospitality and friendship. Seriously folks, if you ever see an event where ESS Promotions is involved, you can rest assured that quality will also be involved.
5/22/06
Batista Signing Report from Allentown, PA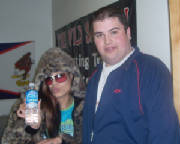 By: Dan Michaels
Well, yesterday I made the last-minute decision to travel to Allentown, PA. to see Batista at Carson's Pro-Wrestling World. I already have a good bit of Batista stuff signed, so I really only went to hang out with one of the nicest guys that God ever created, Bud Carson. For some reason, before I left I knew that the time of the signing was from 6-8pm. However, during my entire trip I kept thinking it was from 4-6. This is probably because traffic on I-78 was a MESS!

I finally arrived at PWW at about 4pm. There was a steady crowd of people coming in and purchasing their tickets. Bud's phone also didn't stop. I spent about 1/2 hour mingling through the store. It doesn't matter how often or how much I see the same items, I still LOVE looking through PWW.

Next, I made my way behind the counter to have a chat with Bud about anything and everything (wrestling or not). He told me that the response for Batista had been great so far and that he was down to his last few pre-sale tickets. He told me that there had been talk of bringing in WWE Diva, Melina with Batista since they are now dating (news to me), but nothing else was said.

Nearing 5:15pm, the crowd really started to show up. I have never seen PWW so PACKED! I went to the front door and people were lined up down the block! I could not believe it. So, Bud asked me if I would mind watching the door. I gladly agreed. I then see an entourage (a group of WXW workers) with Batista. They walked right by me and who do I see? MELINA! At first I didn't think it was her, but I was later told that it in fact WAS her.

Well, the line moved very efficiently. Approximately 400+ fans descended on Allentown. Bud and I made sure that everything ran as smooth as possible from the crowd standpoint. As they were finishing up, I went to the back room and asked Melina if I could have a picture with her and her response was a shocker, "sure honey, I'd love to." She immediately melted my heart and I could see why Batista was dating her, he is the exact same way...VERY gracious.

Bud and I ended our night with a fine dinner at Allentown's BEST restaurant, Charlie Brown's (in my opinion). Apparently Batista, Melina, Afa, and a few others were headed to Perkins for a late-night meal.

A BIG, heartfelt thanks to all the fans that showed up and spent their hard-earned money to meet a great guy and support a great cause!
4/15/06
Kamala & Paul Bearer Signing Report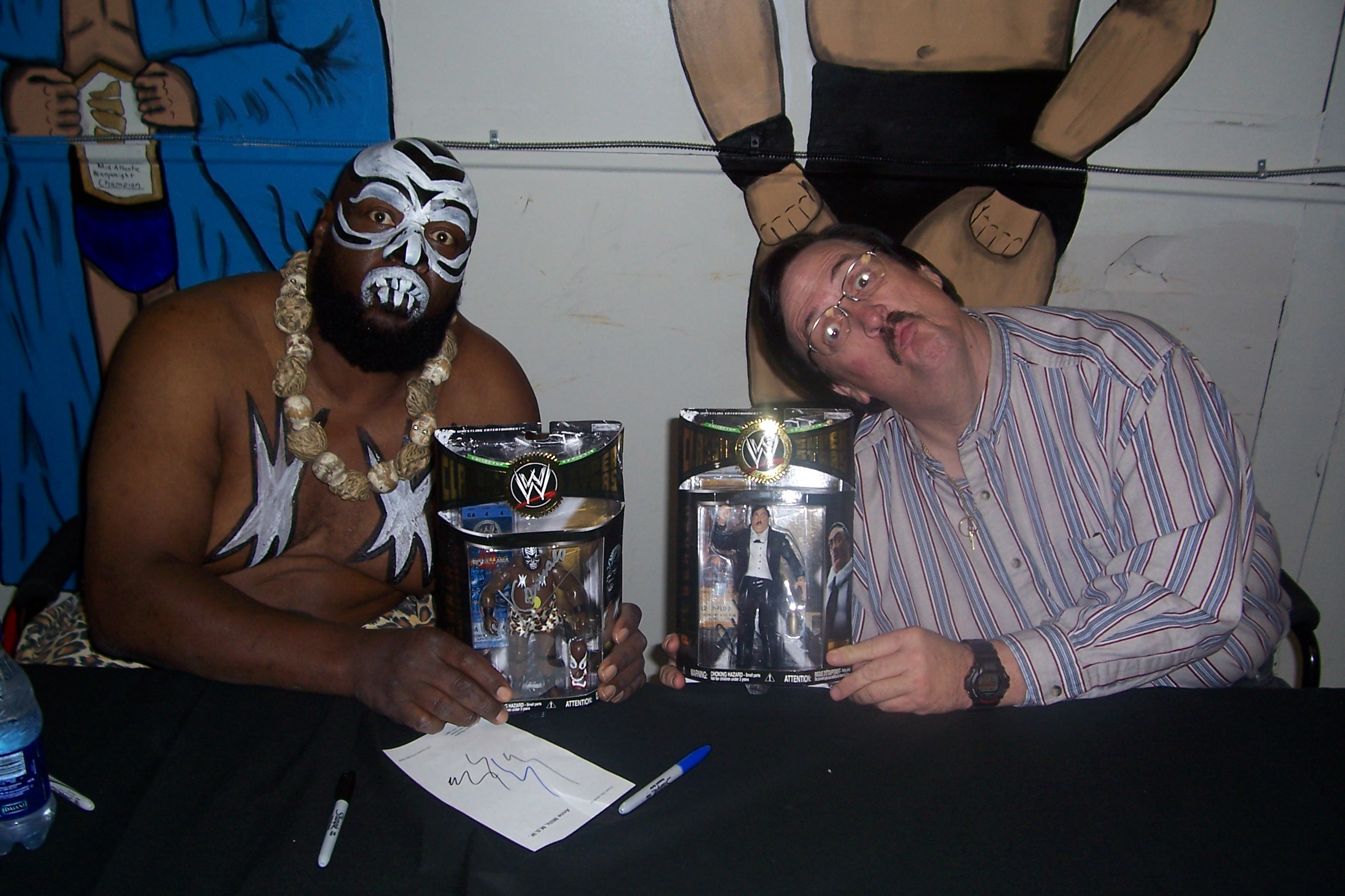 By: Dan Michaels
Just wanted to let you know that if you weren't in Allentown this afternoon, you missed out! Kamala and Percy "Paul Bearer" Pringle drew well over 100 (probably near 150) to Carson's Pro-Wrestling World. I have never seen so many fans pack the house in A'Town.

Everyone seemed to have a great time and Kamala and Paul, as always, were EXTREMELY cordial to all the fans. Mark my words, LOTR will be back with even better things in the future.

A BIG thanks to Bud and EVERYONE that showed up and made this a memorable event!
4/8/06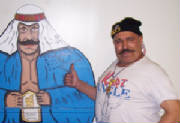 By: Dan Michaels
I was planning on going to the Sheik at Pro-Wrestling World in Allentown this past Saturday and then going to see "Superstar" Billy Graham on Sunday. Unfortunately, I was not able to make Superstar.

To make a long, boring story as short as possible, I was feeling rather bad on Friday night and took some medicine that didn't agree with me. While at work on Saturday, I decided that Dave and I should just skip Superstar in Pittsburgh the next day.

After work, Dave and I headed to Carson's Pro-Wrestling World to hang out with The Iron Sheik. I have always held the Sheik in the highest regard. He is one of the most colorful, outgoing, and extremely polite men I have ever met. It was great to see him once again. Sadly, his health is ever fading and I don't think that we will have this true treasure for much longer. Be well, Sheik.

It was (as always) great to see Bud, Conrad, Ray Dutzcak, and of course, my boy, Terence and his lovely fiance, Sarah. We had a good time sharing some laughs and going over a small amount of "business." I can honestly tell you that when it comes to Wrestling Reunion IV, you are NOT going to want to miss this! Mark your calendars now for June 3rd!!
2/27/06
I Tapped Out This Weekend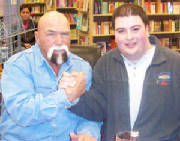 By: Dan Michaels
I would like to tell you that on Saturday night in Baltimore I was able to meet a ton of Smackdown wrestlers and get a ton of autographs. I would also like to tell you that on Sunday night and Monday morning in Newark, NJ I was able to get autographs and pictures from Ric Flair, Arn Anderson, Steve Keirn, and Fit Finlay. I would LIKE to tell you that, unfortunately I can't. Here is what I CAN tell you...

Saturday morning at work, I began making the phone calls, finding out information about myself and Dave's impending adventure that would last until early Monday evening. My good friend Jeff's friend Tammy called me on the hotline and asked if Jeff could meet Dave and I in York, PA. and ride with us to Baltimore. Of course this was fine with us. The more the merrier!

Saturday night, MNM was scheduled to make an "appearance" at the Baja Beach Club in the Inner Harbor. We arrived in Baltimore at around 6:15pm. We walked around a little bit and I made some inquisitive looks at hotels and restaurants. All to no avail. We decided that it would be next to impossible to find any superstars in that mess on a Saturday night and went back to the car to get out of the cold. At 8:45pm we went to the Beach Club. MNM was scheduled from 9-10. I had called the club ahead of time and inquired about a cover charge. I was told that there was no cover for the event. I also asked if MNM would be signing autographs. I was told "yeah, they're here for the fans and are going to make themselves available to the fans."

They arrived at 8:55pm. and were immediately escorted to the back area (off-limits area) of the club. The DJ was announcing off and on that female volunteers were needed for a Jello Wrestling contest. Later, he announced that MNM would be judging the contest. Well, right then the red flags went off for Dave, Jeff, and myself. We KNEW that they were going to come out at the last minute, "judge" the contest (which was for four front row tickets to No Way Out), and get out as quick as they arrived. Unfortunately, we were correct. They came out at 9:45pm, judged the Jello wrestling, and then headed straight to the back area of the club once again. As they were heading back to the room, someone had something for Johnny Nitro to sign. Johnny's response was "h*** no, I'm not signing a f'ing thing!"

The crowd of about 25-30 people waited directly outside of where they were, still under the impression that they were going to come out and mingle with the fans. I sat with Dave and Jeff across the room and watched, knowing what was going to happen. My exact words were, "you watch, they're gonna stay back there for about 10 minutes and then they'll bee line for the door and never give any mind to the fans." Sure enough, that's what happened. So, Saturday night was a waste as far as autographs/pictures. However, I wouldn't have traded hanging out with Dave and Jeff for all the autographs in the world. On a side note, we were told by Chris and Stacy (thanks for reading the board!) that earlier in the day at the Orlando Jordan/Teddy Long "appearance" at the ESPN Zone, they would not sign ANYTHING. You were only allowed to get pictures with them. Pardon me, but what a crock of crap!

On the way home Saturday night, Dave and I had tossed around the idea of coming back down on Sunday to try for autographs. We decided to skip that idea and come down to Lutherville, MD (about 20 min. North of B'more) to see "Superstar" Billy Graham at his book signing instead. Billy was (as he was when we met him in Fayetteville, NC.) a TRUE PROFESSIONAL. He signed whatever was put in front of him and was VERY cordial to the crowd of about 75 people. It is rather sad to see that only that small amount of people come to see such a legend.

Remember me telling you about that boy at the Torrie Wilson/Booker T. signing in B'more that was selling his stuff while in line? He was at the Billy Graham signing doing the EXACT SAME THING! He even had a list this time as well! By the way, apparently he was also at the Orlando/Teddy appearance doing the same thing the day before.

With the Billy signing out of the way, Dave and I headed to Newark, NJ. We had a room booked for the night at a hotel where we knew Shawn Michaels and Ric Flair would be staying. We arrived at the hotel at about 9:30pm. We were greeted by Ray R. and Todd. We all walked into the lobby and found two other autograph seekers. About 30 minutes later, in walked Flair and Michaels. They stood at the front desk and began to walk toward the elevators (Dean Malenko was around as well). I approached Ric with my Big Red Book and asked if he would sign it. His reply was "guys, we just need a little bit of privacy. We're both on the same page (I assume he was trying to convey to me not to even bother asking Shawn for his autograph), we just need a little bit of privacy."

So, after about 10 minutes, we decided to try some of the other locations that had proven successful in the past. The night ended with myself, Dave, Todd, and Ray eating at the Skyline Diner. No autographs, but good times with good friends. By the way, I need to thank Ray for the extra dollar bills! Thanks man! Anyone who knows about the Skyline Diner knows what I'm talking about.

Now, onto Monday. We got up at around 8:00am. We knew that Michaels and Flair would have to leave in time to be in Trenton by 2pm. We waited in the lobby. We saw Michaels, Malenko, Arn Anderson, and Fit Finlay coming and going from the hotel's health club. We didn't bother them at this time. Then they started filtering out of the elevators. First was Shawn. Todd went up to him as he walked outside and he told him that he would come back in to sign his photo. Shawn came back in and went to the Restaurant to get some quick food. He went back out to the car and pulled it up front. He then went over to Todd and said "oh for God's sake, I'll sign it now so you'll stop bothering me!" I didn't hear that remark as I was walking out to where they were at the time. I held my "New Pictorial History of Wrestling" book up and asked Shawn to sign it. He gladly did so. All of the agents then came out. Steve Keirn, Fit Finlay (who flat out told Todd "No" when he was asked to pose with him for a picture), Ricky Steamboat, and Arn Anderson. Ricky was nice enough to sign both myself and Todd's Big Red Book. Ricky is a true professional.

Now it was time for Flair, once again, he walked right by us and never stopped. His response was "thanks guys, thanks guys, I'm in a hurry." A response we knew was expected.

So, at around 1:00pm, we decided to call it a day and headed back home. We thought it would be a good idea to stop by Carson's Pro Wrestling World and visit with Bud. We did, and had a GREAT time! The experience of going to Bud's helped to anchor what was, for the most part, a wash of a weekend (except for Billy Graham and possibly Michaels).

Unfortunately, with this hobby there are no guarantees. Sometimes you win, sometimes you lose. Sometimes you can escape the hold, and other times you just have to tap out. This weekend...I tapped out!
2/21/06
Torrie Wilson/Booker T. Signing Report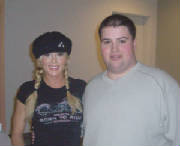 By: Dan Michaels
Torrie Wilson and Booker T. appeared at the Motor Trend Int'l Auto Show last night (02/10) at the Baltimore Convention Center.

Dave and I arrived at the convention center at 12:00pm. to find about 4 people in line for Booker. He was scheduled to begin signing at 2:00pm. For some reason, Dave (while I was walking around and checking out the Classic Shelby Mustang display) decided to tell one of the guys in line that he and I are planning on going to No Way Out for the usual hotel/restaurant adventures as well as Poughkeepsie/Trenton. When I returned so that Dave could walk around, I was bombarded with questions about where the wrestlers stay, work out, etc...

This guy even flat-out asked me for my phone number so that he could give me a call. I don't know about you, but I get uncomfortable with that. Needless to say, I politely declined and also wanted to kill Dave for opening his yap. Sometimes he absolutely cannot help himself. Ironically, he gets like car buffs when they all get together and tell glory stories and such.

Here is something else that shouldn't have amazed me, but did. The same guy that asked me about my number had tote bags FULL of figures, photos, cards, etc. He actually had copies of his product lists with prices and every time a new person got in line, he would distribute his list in case anyone wanted anything to get signed. He obviously knew (from going to previous signings) that there would probably be nothing provided, aside from generic mats, to get signed. I thought that took some big time brass! Let's face it, the guy was going to sell what he got signed, did he REALLY need to get even more? I don't know, maybe that's just me.

Booker arrived right on time and people were immediately told "one item and one item only." I suppose that this was because Booker and his people saw the first few people in line with countless items. However, when I got up to Booker, I applied a little strategy. I asked Booker if he could personalize my photos and he gladly signed my two photos. When I do this, they realize that I have no intentions of selling the items and are more liberal with their signatures. He was also gracious enough to pose for two pictures with me.

Something funny..."Phone Number Boy" tried to get back in line several times and apparently the Rep. from the auto show found out that he was selling items in line and was tearing him a new one right in front of everyone. Good for him!! HERE HERE!!!

Booker's line was EXTREMELY short. Mostly, due to the day and time. Kids were still in school and everyone was mostly at work.

Torrie, however, was a different story. Her line was HUGE!!! I would say close to 250-300 people came out to see her. That may not sound like a lot, but for the Baltimore CC, that was GREAT!

I decided to go up front and watch the first few people to see what rules were being enforced (Torrie's people were different from Booker's). The first people in line were a mother and son. They were definitely "different" and she put EIGHT things in front of Torrie and she signed every one of them!! Next, her son got four! Well, I thought, by that that things looked pretty good. Torrie looked beautiful as always. I got up to her and she signed all of my photos. She posed for two pictures (at different times) and was EXTREMELY cordial. They cut the line off in quick fashion.

All-in-all, it was a GREAT experience meeting two VERY professional superstars.
2/11/06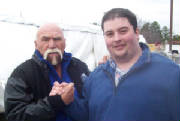 By: Dan Michaels
As I said, Dave and I went to the Wrestlemania Fan Axxess Tour this past weekend in Fayetteville (Fort Bragg), NC. I must say that the WWE and The National Guard put together a great setup for this year's tour.

We departed home at 4:00am sharp. We hit the beltway (DC) and onto I-95. Slightly over six hours later, we arrived at Fort Bragg. I will admit, a thought going through my mind was that with this being on an Army base, what if they don't let us in? Well, after a full car search (basically just opening all the doors, the trunk, and the hood) we were instructed as to where the event was being held.

I was amazed at Fort Bragg. I have never been on an Army base before. I had heard that they are like their own little cities. I must agree. The event was held at the North Post PX. The "PX" is just a military abbreviation for a shopping center/mall. It was under a very large tent at the back end of the parking lot.

When we arrived, we entered the event just to see what was up and who was there. Unfortunately, since we were so far away from home, we didn't see anyone that we knew from the usual signings/autograph adventures. Another one of my big fears was that we would arrive at the event only to find out that Superstar Billy Graham was NOT going to be there. I was soon wrong on two counts as far as my concerns.

The way the autograph area was set up was VERY nice. The stage was a mini ring with a table and chair for the wrestler. There was also a chair in front of the table for the fan to sit on in order to get a free picture, compliments of the National Guard. The line was not too long. Having done/been to other signings, I would say that for a two hour signing, it wouldn't have taken more than 20 minutes to get through the line that was there. A man with the tour (not sure if he was WWE or Nat'l Guard) got on the mic and informed everyone that "the signing with Superstar Billy Graham was a BOOK ONLY signing. You need to buy the book in order to get an autograph. If you do not have a book, you will not be permitted onto the stage."

He went on to inform everyone that the Matt Hardy signing would be free as well as Hillbilly Jim and Ron Simmons. Superstar and Matt Hardy were the only "organized" signings. Hillbilly and Ron just roamed through the tent throughout the day. So, having traveled so far from home, we were not about to walk away with nothing. We purchased the book ($19.50) and got in line. Once the announcement was made that you had to buy the book, the line SEVERELY diminished. The Superstar arrived, did a short interview with Hillbilly Jim on stage and proceeded to his seat for the signing. Everything went very smoothly. Dave and I were debating whether or not to try and get more than the book signed on our way through the line. We didn't know whether we would be turned down or what. Our logic was that seeing as how the line was so short, he would probably stick around and sign whatever we had and possibly pose for pictures. We were wrong…more on that in a minute.

When it was my turn to head up on stage, I had made up my mind that I WAS NOT walking away from this event without having my Big Red Book signed by Superstar. When I greeted Billy, he asked me where I was from. I told him and said that I traveled almost seven hours just to meet him. His response was "oh my, you didn't!"

When he found this out, he was truly amazed. I had told him that it had been a goal of mine to meet him. I asked him if he would mind signing my Red Book and he said, "I would be happy to!" As he was signing it, I asked him if he was going to be hanging around after his signing because I had two other books for him to sign and I wanted to get a picture with him with my camera. He said, "oh absolutely." I sat down in the chair in front of his table and had my photo taken by the Nat'l Guard. It didn't turn out TOO bad, but I like my own camera.

After Dave was finished getting his book (the Superstar's biography) signed, he came over to me and I told him what Billy had said to me about mingling when he was finished. Dave had two NICE photos for him to sign so he was happy to hear this news. Billy's line grew as people realized that the only way to get his autograph was to buy a book. During the downtime, Dave and I were able to get autographs from Ron Simmons. He was VERY gracious. It was funny watching as one boy had about six magazines for Ron to sign. Ron got to the third one and said "how many of these books you got, boy?!" The boy said, "Oh, this was the last one, everything else is for Billy." Nice try.

As Superstar's signing drew to an end, we heard the same man get on the mic and say "ladies and gentlemen, this is your last chance for Superstar Billy Graham. He will be leaving VERY shortly to catch a flight…"

At hearing this, I jumped into action. I got in line with my other two books and Dave with his photos. We got up to the stage and there wasn't a word of fuss from anyone. Superstar signed our items and was very gracious.

We then proceeded to wait near the side of the stage for a picture with him with my camera. After Billy had a quick recap with Hillbilly and Ron Simmons, he headed off the stage and through the back of the tent. I instructed Dave to follow me around back. We went around the tent, only to see Superstar going into the Fan Axxess truck. After waiting for about 15 minutes, I asked the gentleman who seemed to be with Superstar if I could have a moment of his time. I told him that I had spoken to Superstar earlier and informed him of my distance traveled and how Billy said that I could have a photo with him when he was finished. The man said "oh absolutely. He'll be leaving in just a few minutes. It would be best if you waited at his limo door for him."

So, Dave and I waited for about 5 minutes and Billy came out. He remembered me and gladly posed for pics with us. We thanked Billy and went back into the tent. By this time, Matt Hardy was close to arriving. Dave and I did the "Call-a-Match" commentary. Let me tell you, that turned out to be pretty funny! We also got our autographs and pictures from Hillbilly Jim. He thanked us for traveling so far and gave us each a Fan Axxess shirt and hat. Hillbilly is a true class-act.

Dave had wanted to try and go to Hermie Sadler/Dave Hebner's UWF show in South Hill, VA. It was on the way so I told him that we needed to hit the road if we wanted to make it. We decided to skip Matt Hardy and head back. Apparently Jeff Jarrett was "supposed" to be there (turns out, people just ASSUMED that he was there due to him being at UWF's show the night before in Emporia, VA.). Two hours later, we arrived at the show. We stayed until intermission. We took pictures with TNA stars, Elix Skipper and David Young (the "Diamonds in the Rough"). Turns out that Jeff Jarrett was not there.

We got home around 3:30am. I could not be happier with my experience. A long ride with my best friend and FINALLY meeting Superstar Billy Graham! It just doesn't get any better than that!
1/18/06
Meeting Wrestlers in Wilkes-Barre, PA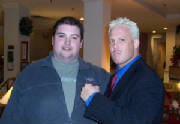 By: Dan Michaels
The last time that Dave and I were in Wilkes-Barre, PA was for a Triple H book signing at The Holiday Inn/TGIFriday's. A trip that would have normally taken slightly over 2 ½ hours was severely extended due to the fact that a MAJOR snow/ice storm had moved into the area. It didn't help that the signing didn't begin until AFTER the RAW show at the Wachovia Arena. Needless to say, coming back home was extremely fun.

I had made a silent vow to myself that I would never travel back to Wilkes-Barre in the winter for any reason. Yeah ok, I really stuck to that…NOT! After I posted about the "Filling Station Meet & Greet," Todd (Dave and I knew Todd from different Penn. shows) posted that he had inside info as to where the wrestlers stay, work out, and eat. I emailed Todd and told him that Dave and I would come up on Tuesday (Smackdown taping), as soon as we got out of work.

So, I picked up Dave and we headed to Wilkes-Barre, PA. The drive went by rather quickly as we laughed of our past trip in the snow and ice and thought of how stupid we were for even thinking that we would get anything as far as autographs/pictures. Oh well, we could be selling drugs or any number of other, more negative activities but we enjoy the unknown world of autograph (wrestling) hunting. When we arrived in Wilkes-Barre, we stopped at the TGIFriday's. It was close to 7:30pm at this time. I called Todd and he informed me that he had just passed by where we were but that he would meet us in a few minutes. He told me that he had already met Melina and VINCE MCMAHON!! Can you believe that? Vince McMahon! Geez…he is one guy that I would truly enjoy meeting. You win some, you lose some.

About 20 minutes later, we were greeted by Todd. All three of us sat and talked for a while about successes and failures. Who is usually nice and who is hardly ever pleasant. Who signs and who doesn't. At about 9:30, we decided to go to the hotel where Todd had said MOST of the guys were staying. When we arrived at the hotel, we saw a car full of people waiting for the same thing that we were. I must admit, I do find this extremely funny. There are some wrestlers who I have enjoyed or would enjoy meeting, but for the most part, I go for Dave because he really gets a kick out of this. Don't get me wrong, when I see the wrestlers, I am one of the first wanting an autograph/picture. That said, I didn't realize that the wrestling autograph seekers is its own little community. At about 10:30, the event (held at the Wachovia Arena) let out. While waiting outside of our cars, we began to talk to a gentleman in the other car. Todd saw a car pull up and the passengers were identified as Bobby Lashley, The Boogie Man, and Ken "Mr. Kennedy" Kennedy. We waited in front of the door and when they walked up, someone asked for their autographs and Ken said "sure guys, why don't you come on in here (hotel lobby)."

We went in with them and I was able to get Bobby Lashley's autograph and a picture with him. Same with Ken Kennedy. I must say that Ken was EXTREMELY nice. I had heard that he was, but I was very impressed. Bobby was also nice but not too talkative. Did you know that Vince makes the Boogie Man walk around with a shroud over his face? Yup, I kid you not…you could not see his face. He wasted no time in getting on the elevator and going to his room. While we were in the lobby getting our stuff, about 4-5 more autograph seekers arrived. As we exited the lobby, they came out and we were pleased to make their acquaintance. We waited for about 10 minutes and decided that the best bet would be to hit up the restaurants. We exchanged phone numbers and went on our way. On our way to TGIF, we got a call from our friends that Ricky Steamboat, Dean Malenko, and Steve Keirn were all there eating.

The restaurant scene was a pure waiting game. Out of respect for the wrestlers, we do not bother them while they are eating. We wait for them to come outside and then see what we can get. I won't bore you with the details of going from this restaurant to that restaurant, etc. I will say that we were very blessed with our results. Myself, Dave, and Todd were able to get a mixture of autographs/pictures from Ken Kennedy, Bobby Lashley, Juventud Guerrera, Jillian Hall (without the "Beauty Mark"), Sylvan, Matt Hardy, Rey Mysterio (He has the same deal as Boogie Man. NO pictures when he is not wearing the mask.), one of "The Dicks", Jamie Noble, Snitsky (A surprise…he was visiting friends that he doesn't normally see. He lives in the area.), Chris Benoit, and last but certainly not least, Batista. Batista is a true class-act. He signed anything for anyone.

I was very moved when (as he was leaving the restaurant) a young lady asked if he could come over to her section and meet her friend who was disabled. I looked over and there was a young man confined to a wheelchair. Batista had no hesitation and went over to the boy and talked with him for a few minutes, posed for pictures, and signed autographs. To see this boy's face light up when meeting one of his heroes was priceless. It is at times like those, I realize how truly blessed I am. It was very moving. What was also moving was that during that time, everyone kept their distance and respectfully allowed him his time alone with this special fan. Kudos to everyone there.

We were successful with all of the aforementioned. We were snubbed by Dean Malenko, Steve Keirn (he seemed to disappear), and Randy Orton.

All told, it was a VERY successful night. My thanks to Todd for sharing his "secrets" and company. I hope that we can do this again, soon!

The award for most fan-friendly goes to…Ken Kennedy!!!
1/5/06
The Infamous "Filling Station Meet & Greet"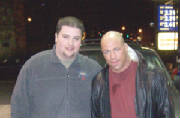 By: Dan Michaels
Well, as the title of this thread says, it truly was a "Filling Station Meet & Greet." I'll elaborate. While at the Paul Orndorff signing at Carson's Pro Wrestling World, Steve (one of Bud's employees and a very good friend) was telling Dave and myself that WWE (RAW Brand) was going to be at the Stabler Arena in Bethlehem, PA (Lehigh University) at the end of December. Steve had told us that at Stabler, the wrestlers are pretty easy to get to for autographs and pictures. Up until Monday night (12/26) I had completely forgotten about the event. While watching RAW, Dave was on the net going over the card for the next night's event at Stabler. On the card was Cena, Angle, HHH, Flair, Masters, Viscera, Val, Trish, Victoria, Ashley, etc. Since both Dave and I were on vacation for the week, we decided to travel the 3 hours and see what we could get.

So, armed with photos, books, and camera, we set out for Bethlehem, PA. The most unfortunate event of the night was the fact that about 6 miles before our exit, there was a MAJOR accident shutting down both East and Westbound lanes for I-78. Not knowing any back roads into the venue, we had to wait out the traffic. After about an hour of stop and go traffic, we were at our exit and arrived at Stabler Arena. We got out of the car and headed to the hill, just outside of the back entrance. We were fortunate enough to be joining Dale (Dale takes the polaroids at Carson's PWW for Bud's signings) for the next three hours. There was also another young man and his girlfriend. I found out that he reads the board. Thank you!

Within five minutes after arriving on the hill, Val Venus walked outside to go to his car. The guy that reads the board was able to get over to Val's car and get an autograph and photo. Way to go!!! Security cut myself and a few other boys off from stepping onto the parking lot before we could get close to Val. After we went back up, Daivari came out and didn't even acknowledge the few (couldn't have been more than 5) fans that had gathered out back. Really classy man…REALLY classy. He could have at least waved to the kids that were shouting his name.

As the event was winding down, Arn Anderson came out to talk to the security guards at the back door. We immediately knew that he was going over the exit strategy for Ric Flair. Flair's car was pulled up and he got in and drove away. He went right past me as I was holding out my Big Red Book for him to sign. That would have been nice but oh well. Trish was identical to Ric in her exit as well as passing by me.

The event let out about 20 minutes later and the hill was instantly flooded with over 100 people waiting to see the wrestlers leave. Dave overheard someone saying, "I know where they're going to eat, it's towards Harrisburg." Since I didn't know where they were going, I investigated. I asked the head of security if he knew where they were going. His reply was "yeah, I told them where to eat in Fogelsville." I knew by his tone and attitude that he wasn't going to tell me any more than that. Someone walked up to the security guard and they struck up a conversation. I overheard him telling these guys where they were going to eat. I asked the boy and he told me it was "Yocco's, in Fogelsville." Yocco's is a hot dog restaurant just outside of Allentown (to the West). I told Dave this info and we hit the road. I knew that my gas was low, so I decided to stop at the closest station and fill up before hitting the road. Seeing as how I didn't know how far Fogelsville was, I didn't want to take any chances. We stopped at a Mobil in Bethlehem, less than a mile from the arena. I pumped the gas and went inside to pay. After purchasing a drink and a couple Dunkin' Donuts for Dave and I, I went back to the car. When I got in, Dave had a look on his face as if he had just seen the Savior. I asked him "what's wrong" and he just stared out my window (driver's side). He kept saying "Holy sh*t". Finally I said, "Dude, what's up?!" and he said, "Kurt Angle and Shelton Benjamin just pulled up next to us!" I looked and sure enough, there they were. Shelton was driving and Kurt was outside, pumping the gas. I pulled over to a parking space and was getting ready to get my stuff when Dave said that he wasn't getting out. I said, "suit yourself but I'm NOT missing THIS!!!" I had my program with me and opened it to Kurt's page (Shelton was inside at this time). I walked over to Kurt, as he was about to get into their SUV and said "Mr. Angle, could I trouble you for an autograph?" His response was surprising…"Sure man, come on over!" I couldn't believe that he was willing to do this for me. I had heard that he was VERY nice at different signings but outside of the business, I wasn't sure what to expect. Kurt was signing my program and I asked if I could have a picture with him. He was VERY happy and willing to do this as well. I motioned for Dave to come over and take my picture and he finally got out of the car. When Dave came over, Kurt said "Let's get in front of the car, the picture will probably take better there." WOW, what a guy. Concerned about the picture turning out! After Dave took my pic, Kurt asked Dave if he wanted him to sign his picture (early promo of Kurt) and Dave accepted the offer. I had noticed that Kurt was using straight ice on the back of his neck. I was amazed that after all he had just been through in the ring with Cena (cage match) that he was so nice. I wished him a happy new year and and told him my usual "God Bless You" and he responded in like fashion.

Shelton hadn't returned at this time so I walked towards the store entrance when I noticed Big Viscera getting into his SUV (Trevor Murdoch was driving him) and I yelled "hey Vis, could I get an autograph!?" He yelled back "sure man, come on over real quick!" I did and Dave followed. We both got Vis' autograph in our programs and I got a pic with him.

By this time, Shelton was standing at the back door of his SUV putting his coat and some other things away. I went up to him and he obliged with an autograph and picture for Dave and I.

I want to say that I went into that night with NO expectations. I knew that the chances of walking away with anything were slim to none. I couldn't believe what Dave and I wound up getting. Although I know that Kurt, Shelton, and Viscera will probably NEVER see this, I want to thank them from the bottom of my heart! Especially Kurt. The fact that he was hurting but took the time to sign one thing for each of us and pose for pictures speaks volumes for his character. I was already a BIG FAN of Kurt's, but he will go down as one of my favorites, now. God Bless all three of you. You are true gentlemen! I hope that I get to meet you again!
12/31/05